Call for International Fellow Applications
Gastrointestinal
Endoscopy
Call for International Fellow Applications
1.About Us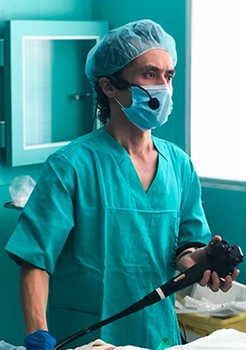 Dr. Ken Ohata, Director of Gastrointestinal Endoscopy
The Department of Gastrointestinal Endoscopy at NTT Medical Center Tokyo conducts endoscopic examinations and treatment with a team led by Dr. Ken Ohata, who is one of the most experienced experts in the field in Japan.
Our hospital conducts 911 ESDs per year (2020), and we have received numerous invitations from overseas for lectures and instruction and conduct the ESD Live and lecture activities.
Trainees from Japan and abroad also come to the hospital to learn the OHATA METHOD, and are playing active role by bringing the techniques back to their respective hospitals and countries.
Even after graduation, we provide regular opportunities for interaction and exchange. In addition to treatment, we also focus on endoscopic diagnosis using magnifying endoscopy, Endocyto, and ultrasonic endoscopy. We welcome trainees at any time.
We look forward to your application!!
ESD Treatment Record

Click here for the enlarged version
ESD:Endoscopic Submucosal Dissection
STAFF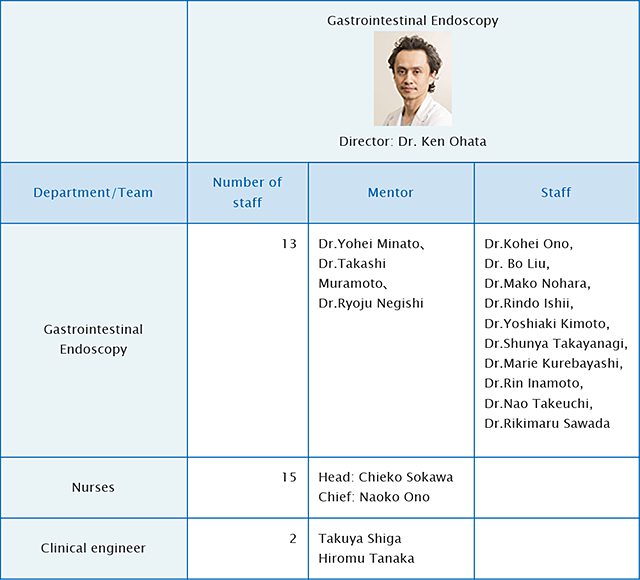 Click here for the enlarged version
2.Training Program
Short-Term Training Course
Observation of endoscopic diagnosis and techniques
Participation in meetings to interpret endoscopic diagnosis results
Lectures by endoscopy professionals
Hands-on ESD training on pig digestive tracts
Long-Term Training Course
Observation of endoscopic diagnosis and techniques
Participation in meetings to interpret endoscopic diagnosis results
Lectures by endoscopy professionals
Hands-on ESD training on pig digestive tracts
ESD training under the guidance of endoscopy professionals with acquisition of a temporary medical license
3.Record of International Fellows Accepted
2017
China: 7, US: 1, Portugal: 1, Russia: 1, Australia: 1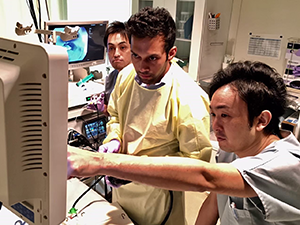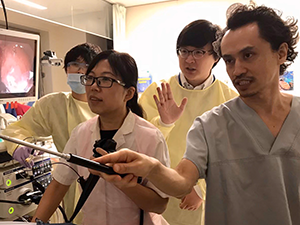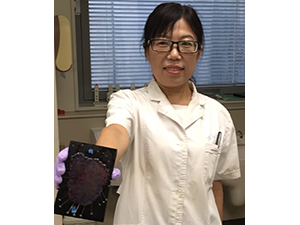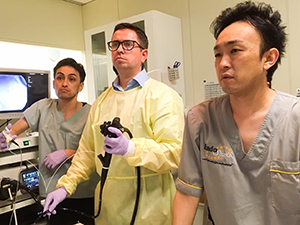 2018
China: 15, Brazil: 3, Sweden: 1, UK: 1, Russia: 1, Greece: 1, Spain: 1, Germany: 1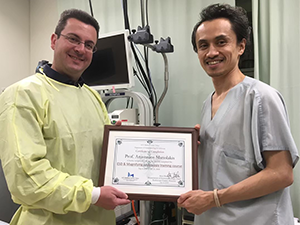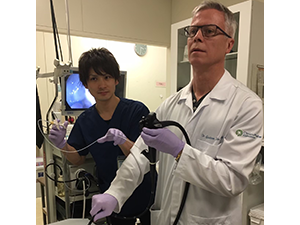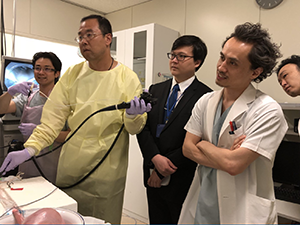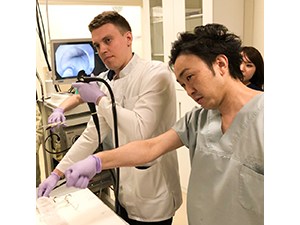 2019
China: 9, Sweden: 4, Russia: 3, Taiwan: 3, Italy: 2, Hong Kong: 1, New Zealand: 1, Israel: 1, UK: 1, Germany: 1, Brazil:1.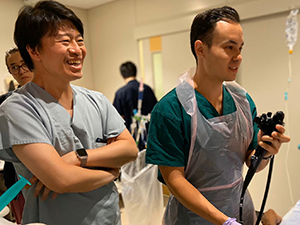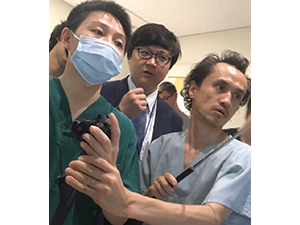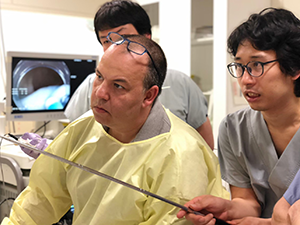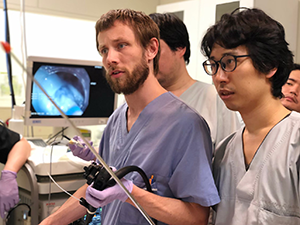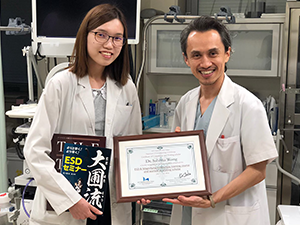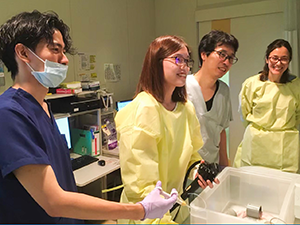 2020
0  (Due to COVID-19)
4.Visiting Doctor's report
Cameron Schauer(2019.8.1~11.13)

It was an honour to be allowed the opportunity to observe, learn and participate in the Gastroenterology Program at NTT Hospital in Tokyo, Japan.
I was an Endoscopy Fellow from Auckland, New Zealand, practicing independent endoscopy but very keen to learn advanced diagnostic and therapeutic Endoscopy.
The goals of my 4 months at NTT were to improve my luminal endoscopy, in particular in-vivo endoscopic diagnosis and resection of lesions with ESD. I was fortunate to work under the guidance of Dr. Ken Ohata and his excellent team.
Here I was exposed to many new techniques, ideas and a passion for teaching endoscopy that in my experience is unmatched. They created an incredibly supportive environment, with amazing patience to explain, demonstrate and then supervise me in performing all aspects of endoscopy. There were additional teaching sessions on basic science, endoscope handling and technique, improving aspects of basic endoscopy such as colonoscopy insertion, tips to application of abdominal pressure, use of animal models, and diagnostic pre-ESD examinations using magnification, virtual and dye chromoendoscopy and then mucosal resection, including EMR-L, EMR-C and ESD. There is routine and regular teaching sessions with histology and clinical correlation which further enhances understanding. Since this time, I have returned to New Zealand and have been able to successfully adapt their tricks, tips, ideas, techniques and concepts to improve my practice, including ESD.
In addition, they showed me through their action and observation how to improve as a teacher myself. At their institution, teaching is seen as an expectation and taken very seriously. There was a constant and unwavering pursuit of excellence, and I was inspired by their dedication to this craft, astonishing attention to detail, understanding, knowledge and then finally execution of complex procedures.
I am exceptionally grateful to everyone on the team, including my supervisors, Dr. Ohata and Dr. Muramoto and my mentors, Dr. Minato and Dr. Konishi who were always friendly and supportive. I thoroughly enjoyed my time there, and got to know all of the team and other trainees, with Japanese hospitality and teachings of culture and of course delicious Japanese food. Furthermore, we all managed to improve our English and Japanese and intend to keep in touch, with collaborations to come in the future.
It is without hesitation that I say my time in this Endoscopy Unit with Dr. Ohata and his team was the greatest learning experience of my career so far, and I would highly recommend it to anyone interested in learning more about Endoscopy.
Wong Po Yan(2019.7.1~7.23)

Introduction of myself
I work as an associate consultant surgeon, specializing in colorectal surgery, in Princess Margaret Hospital in Hong Kong. Apart from surgeries, I also have special interest in therapeutic endoscopy, as I believe that early diagnosis and treatment of mucosal lesions is also an important part in the management of colorectal malignancy.
Why do I want to learn ESD in NTT?
Since the introduction of colorectal cancer screening program in Hong Kong, many dysplastic and early malignant colonic lesions are now detected by colonoscopy. Treatment of these lesions by endoscopic mucosal resection is suboptimal due to piecemeal resection and positive margins. Endoscopic submucosal dissection (ESD) emerges as an essential yet advanced endoscopic technique for these lesions. Dr. Ken Ohata is a world-renowned expert in ESD. I am deeply inspired by his books including "大圃流" and " The Text ESD" which illustrated step-by-step the strategies of ESD. By grasping these fundamental concepts, ESD appears more "user-friendly", efficient and precise. In fact, Dr. Ohata and his team had managed the highest number of ESD cases in recent years in Japan.
My experience in NTT
I am very happy to obtain a 4-week clinical observership in NTT Medical Centre Tokyo in July 2019. When I received the reply from Dr. Ohata, it was like a fan's dream come true! Dr. Ohata demonstrated his techniques to me and other fellows like in a masterclass, which indeed was so mind-blowing and amazing as in a magic show. He was passionate in sharing his principles, skills and experience with us. Like Dr. Ohata, the senior members were all very willing to teach and offer supervision to trainees. They were very helpful and always explained to us about the procedures. I was impressed by their dedication to achieve the best performance outcomes and patients' satisfaction. Team spirit and working atmosphere was good like in a big family. On one busy day, even though the last procedure finished late, all staff members gathered around and provided peer support until the end of the procedure. ESD cases were very diverse, ranging from upper gastrointestinal tract to lower gastrointestinal tract, extending to other technically demanding areas like in the duodenum and pharynx. I am very grateful that they organized a hands-on training session on porcine model for me. Dr. Minato was my tutor and it was an invaluable opportunity to try on and practice under his guidance. I also felt delighted to have hotpot and Japanese dinner gatherings with their residents where we exchanged not only on the medical knowledge but also our interesting cultural differences. Last but not least, I am truly thankful to Dr. Muramoto for his coordination in my attachment all along.
Having these exposures in NTT Endoscopy Unit, I gained more confidence in establishing the new ESD service in my own center. I have performed 10 cases so far. I am proud to be one of the many international followers of Dr. Ohata. I look forward to visiting again in the future to continue my learning and to meet my friends here in NTT.
Ke Xiquan(2018.12.17~2019.8.16)

Introduction of yourself
My name is Xiquan Ke. I am an attending GI doctor and associate Professor from Anhui Province, China. I went to study in Johns Hopkins University as a joint PhD candidate of gastroenterology in 2014, and got a MD degree in 2016. I am very interested in diagnosis and treatment for early GI cancer.
Motivation for coming to NTT Medical Center Tokyo (NTT MCT)
From international and Chinese conferences of endoscopic performance, I know that Dr. Ohata is a very reputable and charmful endoscopic expert, whose skillful operation of endoscope seems like floating clouds and flowing water and like the endoscope is an integral part of his body, so he has a laudatory title of "God Hand".
I am one of lots of loyal fans of him in the world, worship him very much. Secondly, his masterpiece of "Operative skill of ESD" is very popular in China, which not only can be used as a standard textbook for beginners, but also can provide reference for experienced ESD doctors. The book is very beneficail to deepen the understanding of ESD, shorten the learning curve and improve medical safety.
At last I find that Dr. Ohata's team specializes in diagnosis and treatment of early-stage gastrointestinal(GI) cancer, which is very significant for the study of endoscopy and gastrointestinal carcinoma and fits my background very well. I was very interested in his proficient operational skills and advanced conception of digestive endoscope technique, I also hope to improve skills in advanced endoscopy and to learn the early GI knowledge systematically in Japan.
After I had learned that Dr. Ohata and NTT Medical Center Tokyo can provide an opportunity to study ESD for visiting doctor and visiting scholar, so I wrote to the apply the position immediately. Thanks for the help of Dr. Muramoto and Kimoto from Ohata's team in my visa application and preparation.
Impression of NTT Medical Center Tokyo
There are the cases for ESD treatment of early colon cancer in NTT Medical Center Tokyo which rank Number 1 in Japan and in Asia, the visiting doctors of digestive endoscopy center in NTT Medical Center Tokyo are attracted by the excellent ESD technology of Dr. Ohata, who are from Japan, China, Britain, Hong Kong, Taiwan, Israel, Italy, Switzerland, Vietnam, Malaysia, Russia, New Zealand and other countries all over the world.
Everyone come from all corners of the world to gather together for a common goal to improve the diagnosis and treatment of early GI cancer and ESD operation. Therefore, we can communicate happily, I am able to understand the medical education background and medical development status of early GI cancer in different countries.
There is discussion of difficult cases of early GI cancer on at 6-7AM on very Wednesday morning, the resident doctor reported on diagnosis and treatment for different types of early gastrointestinal cancer, early colon cancer, gastric cancer ,esophageal cancer, etc. There is the latest progress of endoscopy and digestive diseases at 7-8AM.
During the academic report, the report process may be interrupted at any time by senior doctors such as Ohata, the discussion of break the casserole and ask the end is very interesting and meaningful. Preparations of ESD and other operations for early GI cancer is started At 8:15AM.
There are lectures for GI cancer one time every 1-2weeks and hand-on ESD traning in animal model one time every 3-4weeks for the short-term visiting doctors less than three months, so we can learn the NBI-ME, EUS, FNA, DBE for UGIB, ERCP, EVL and ETI for EGV, ERCP, EPMR, EFR and ESD techniques systematically and comprehensively with the guidance of teachers from Dr. Ohata's team in the endoscopic center.
There will be an opportunity to do ESD for clinical patients for visiting doctors more than three months if your endoscopic technique has been evaluated and passed by the team, I'm lucky to be one of them, I started to do ESD in clinical cases when I got the temporary Japanese doctor's license.
Dr. Ohata is my supervisor and the director of endoscopic center, he is very nice and friendly, who teaches me to determine the individualized ESD treatment according to the gravity direction of lesions for early GI cancer patients hand by hand, is different from some experts need auxiliary traction by dental string, which can reduce the operation time. He teaches me demonstration of different endoscopic devices in detail, such as Dual Knife and Nano IT.
He teaches me lots of tips of ESD, for example, I have learnt to enter endoscope and devices at the same time using my right hand, and learnt to control up/down or left/right button and enter devices at the same time using my left hand by make "Loop" to endoscope, by which I can control the endoscope perfectly and cut the lesions freewheelingly.
There is one thing that impressed me most, it took Director Ohata four hours to do ESD for a Juvenile polyposis patients, the size of the largest LST-G-H lesion I had seen is 155×145 mm, he dissected and cut the nearly circumferential lesions carefully and patiently by making two tunnels, the perfect and successful ESD operation has won everyone's admiration. His enthusiasm for endoscopy and his pursuit of perfection for ESD technique are always worth learning.
Furthermore, I have made great progress in ESD operation with the guidance and help of Dr. Muramoto, Dr. Chiba, Dr. Ito and Dr. Kanda. Dr. Muramoto and Dr. Minato of Dr. Ohata's team are engaged in ESD treatment for early duodenal cancer and early hypopharyngeal cancer. The two docotors have the top two ESD operations for early duodenal cancer in Japan. They are skilled, and friendly to visiting doctors.
Future plan
Before leaving, I introduced the clinical situation and scientific research of early GI cancer in our hospital to Dr. Ohata, and sincerely invited him to our hospital for guidance. He appreciated the achievements of our department and expressed his willingness to teach and guide in China. For the future development and cooperation, I hope to keep close contact with Dr. Ohata's GI endoscopic team and gastroenterology department of NTT Medical Center Tokyo through Email, pay attention to its academic trends, and actively participate in the international events of early gastrointestinal cancer; Also hope that the screening, accurate examination and endoscopic ESD treatment technology of early gastrointestinal cancer in my hospital will be enhanced through the excellent platform of NTT Medical Center Tokyo.
Conclusion
Time has been fleeting in the past eight months. My trip to Tokyo, Japan, has brought me fruitful results, broadened my horizons, enriched my experience, and improved my basic research and endoscopic practice level of early gastrointestinal cancer, which is an unforgettable and forever memorable experience for me. Thank for help of Dr. Ohata, Dr. Muramoto, Dr. Chiba, Dr. Tsuji, Dr. Minato, Dr. Ito, Dr. Sagai, Dr. Konishi, Dr. Kimoto, Dr. Ishii, Dr. Kanda and all the other teachers from Dr. Ohata's endoscopic team. I look forward to meeting you again soon.
5.Links
NTT Medical Center Tokyo, Gastrointestinal Endoscopy participate in the ESGE fellowship grant programme.
For more details, please refer to the link below.
Also participate in the PENTAX EUROPE Forward program.
For more details, please refer to the link below.
Ohata Endosalon
Please follow Ohata Endosalon.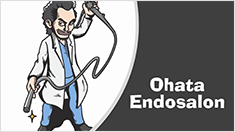 Please feel free to visit our Facebook page, too.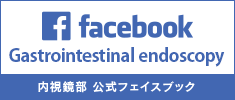 6.Application Form
If you would like a direct contact, please make inquiries using the Inquiry form.
Feel free to also submit an inquiry only!
*Please provide the following information,
Name
Country
Hospital Name
E-mail Address