Pancreato-biliary team
---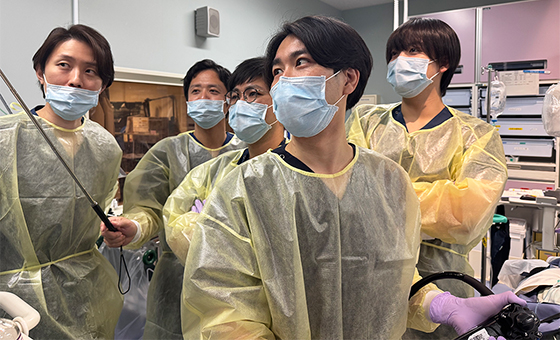 (1) Overview
The Pancreato-Biliary Team specializes in the treatment of pancreatic and biliary (gallbladder and bile duct) diseases. Examples of pancreatic diseases handled by our team include malignant diseases such as pancreatic cancer and pancreatic neuroendocrine tumors (P-NET) and benign diseases such as acute and chronic pancreatitis. Gallbladder diseases include malignant tumors such as bile duct cancer, gallbladder cancer, and duodenal papillary carcinoma and benign diseases such as cholelithiasis and acute cholecystitis.
Pancreatic cancer and biliary tract cancer are difficult to diagnose and treat, and are known to have poor treatment outcomes among the different types of cancer. In an effort to overcome these cancers, we focus on improving testing and treatment technologies, aiming for early detection and improved treatment outcomes.
(2) Policy
The ultimate goal of our team is the early detection and early treatment of pancreatic cancer. In order to overcome pancreatic cancer, which is known for poor survival rates, we perform tests and diagnoses using CT and EUS (endoscopic ultrasonography), striving for therapeutic intervention at a stage where resection is possible.
(3) Our Strengths
Detailed examinations for early detection of pancreatic cancer
Regular CTs alone may not be able to identify small pancreatic cancers. For this reason, our team conducts testing combing dynamic CTs of the pancreas, MRCP (MRI imaging of the bile and pancreatic ducts), and EUS (endoscopic ultrasonography), aiming for the detection of small pancreatic cancers at a stage where surgery is possible.
[Explanation of Tests]
Dynamic CT of the Pancreas: A test in which a contrast agent is injected, and multiple cross-sectional images are taken of the abdominal area. By taking CT images of the same area after a certain time interval, the difference in the movement of contrast agent between normal tissues and diseased tissues can be confirmed.
MRCP: A test that examines the bile duct and pancreatic duct using an MRI device. Because it can be conducted without the use of a contrast agent, it is a test that places minimal stress on the body.
EUS: Rather than applying ultrasonic waves from outside the body, this test involves inserting an endoscope equipped with ultrasound device into the body, applying ultrasonic waves to organs such as the pancreas from a close range.
Rapid Diagnosis using EUS-FNA
EUS-FNA (endoscopic ultrasound-guided fine needle aspiration) is a procedure in which an endoscope equipped with a small ultrasound generating device on the tip is used to harvest diseased tissue.
If the possibility of pancreatic cancer or gastrointestinal submucosal tumors is suspected upon conducting imaging tests, a definitive diagnosis can be reached through pathological diagnosis to examine tissues harvested with EUS-FNA. Because EUS-FNA is conducted by inserting an endoscope through the mouth, compared with previous procedures where a diagnosis was made using a laparoscope, which involved making an incision in the abdominal area, it is a minimally invasive procedure. The minimum hospital stay is 2 nights, 3 days, broken down as indicated in the chart.
* Sample hospital stay for testing (minimum stay)
Weekday Day 1
Weekday Day 2
Weekday Day 3
Hospitalization
EUS-FNA
If there are no issues with the morning blood draw, resume eating with lunch, discharge after lunch
Fast for the entire day
Treatment System for Urgent Cholecystitis and Cholangitis
Biliary tract infections such as cholecystitis and cholangitis are highly urgent illnesses where treatment and care immediately after onset is critical. Our team has created a system where physicians, nurses, and co-medical staff work together to ensure that a test known as ERCP (endoscopic retrograde cholangiopancreatography) can be conducted regardless of whether it is during or after regular consultation hours, enabling us to handle these types of urgent illnesses. This enables us to take measures such as same-day treatment when patients in need of treatment come to the hospital.
◆Main Tests
Gallbladder polyp
Cholelithiasis
Cholangitis
Cholecystitis
Biliary tract cancer
Pancreatic cancer
Pancreatic cyst
(4) Procedures performed
● ERCP treatment results
We perform endoscopic retrograde cholangiopancreatography (ERCP) from Monday to Friday at our hospital. * Four endoscopists conduct nearly 500 ERCPs annually. We often perform emergency ERCP procedures at the hospital in response to urgent illnesses, with more than 90 cases per year being emergency ERCP procedures.
We are also available at night and on holidays when needed.
| | 2017 | 2018 | 2019 | 2020 |
| --- | --- | --- | --- | --- |
| ERCP (endoscopic retrograde cholangiopancreatography) | 480 | 523 | 543 | 494 |
| ERCP (patients who received same-day emergency treatment) | 108 | 149 | 123 | 96 |
●EUS Results
| | 2017 | 2018 | 2019 | 2020 |
| --- | --- | --- | --- | --- |
| EUS (ultrasound endoscopy) | 295 | 462 | 511 | 485 |
| EUS-FNA (EUS-guided fine needle aspiration) | 89 | 117 | 102 | 114 |
| Interventional EUS (treatment with ultrasound endoscopy) | 35 | 41 | 32 | 18 |
---
Message to those who visit us
The Pancreato-Biliary Team specializes in the treatment of biliary and pancreatic diseases, which are difficult to diagnose and treat. In fact, pancreatic cancer and biliary tract cancer are currently ranked the worst and second worst in terms of survival rate. The diagnosis and treatment of the biliary and pancreatic region requires special endoscopic techniques such as ERCP and EUS, which are different from those used in ordinary gastroscopy. Therefore, very few doctors specialize in this field.
The Pancreato-Biliary Team, Hepato-Biliary-Pancreatic Medicine, NTT Medical Center Tokyo, was reorganized in April 2016. The team now consists of four pancreato-biliary specialists (as of February 2021). Our team conducts comprehensive care from diagnosis to treatment and chemotherapy, achieving a high level of team care. In addition, the Pancreato-Biliary Team is actively involved in academic and professional organizations and actively engaged in clinical research, interacting with other facilities to enhance the level of care, engaging in our daily consultations and care to ensure high quality treatment for as many people as possible.
The main goal of our team is early diagnosis and treatment of pancreatic cancer. We use EUS and computed tomography (CT) to detect and diagnose pancreatic cancer at the earliest stage possible for surgery and request Surgery for the procedure.
EUS plays a major role in this as a medical examination tool. The detection rate of small pancreatic cancer is 80% or less even with CT but is 90% or more with EUS (some papers show that the detection rate of pancreatic cancer of 2 cm or smaller is 50% with CT). Pancreatic cancer that is not clearly detected with CT can be detected with EUS, owing to which several patients have undergone early treatment for their cancer.
We strive to diagnose and treat pancreatic cancer quickly and with low risk after the tumor is found. The diagnosis of pancreatic cancer can be made quickly, which is 3 days at the shortest, and can be done in a low-risk (fewer complications) and minimally invasive manner because EUS-guided fine needle aspiration (EUS-FNA) can be used for the diagnosis instead of the conventional ERCP (ERCP is performed only when necessary). Because we also work closely with the Surgery department, we have a system in place to shorten the waiting period for surgery, and the risk of the cancer progressing during the waiting period is low. We also strive to provide prompt treatment for patients with advanced pancreatic cancer that is inoperable. We perform a blood test and contrast-enhanced CT scan in an outpatient visit on the first day and then perform EUS-FNA with hospitalization on the following day. Treatment with anticancer drugs can be started after receiving the pathology results, making it possible to start the treatment within a week from the first visit.
The endoscopic pancreaticobiliary procedures at our team have been increasing, and we have received many referrals to perform ERCP, which is difficult to perform at other hospitals. We also provide treatments such as biliary drainage, cyst drainage, and abscess drainage with EUS daily. Our hospital is equipped with the latest* endoscopic equipment, and our team has treated lesions that were thought difficult to treat in the past. We have added a brief description of each disease and the results at our hospital on our website. Please feel free to contact us at any time if you are concerned about pancreatic cancer or have questions about your treatment plan.
* February 2021
To medical institutions
We always welcome patient referrals. If you have patients who need highly specialized medical care, such as those who have difficulty in intubation of bile ducts with ERCP or those who need pancreaticobiliary drainage (EUS-guided biliary drainage [EUS-BD], EUS-guided pancreatic duct drainage [EUS-PD]) with FNA or EUS, please refer them to Yuji Fujita, who is in charge of the outpatient for new patients in Hepato-Biliary-Pancreatic Medicine on Tuesday mornings. In some cases, pancreatic and gallbladder tumors that are not clear can be diagnosed by observing them with EUS. We can also quickly respond to your requests about EUS. Please contact the center immediately if you have patients with cholangitis or other conditions that require urgent care.