Hepato-Biliary-Pancreatic Medicine
Hepato-Biliary-
Pancreatic Medicine
Hepato-Biliary-Pancreatic Medicine
---
What is Liver team/Radiofrequency Ablation Center?
(1) Overview
The Radiofrequency Ablation Center mainly conducts percutaneous radiofrequency ablation (RFA) for liver cancer (primary liver cancer, metastatic liver cancer). RFA is a treatment method where cancer cells are destroyed by inserting an electrode probe approximately 1.5 mm in diameter into the tumor and dielectrically heating the cells around the electrode using radio waves. The treatment is conducted under local anesthesia, and treatment time is approximately one hour.
"Hepatocellular carcinoma", the most common type of liver cancer, is most often caused by hepatic cirrhosis from infection with the hepatitis B or hepatitis C viral infections. For this reason, patients with hepatocellular carcinoma often also have decreased hepatic function, and their prognosis is greatly influenced not only with cancer treatment, but also according to how successfully hepatic function is preserved.
Furthermore, as the rate of recurrence of hepatocellular carcinoma after treatment is high, from the perspective of also keeping in mind treatment at the time of recurrence, hepatic function needs to be preserved as much as possible.
Given these characteristics of hepatocellular carcinoma, the fact that RFA does not require resection of the liver and places little physical burden on patients is a major advantage of the treatment.
In addition, the Center not only offers treatment, but is also actively involved in diagnosing hepatic cancer. The Center also offers diagnosis and treatment of hepatic diseases in general such as liver tumors, hepatic cysts, viral hepatitis, and non-alcoholic steatohepatitis (NASH).
(2) Policy
Speedy process from diagnosis to discharge
The Center makes it a point to promptly and speedily conduct the steps from diagnosis of hepatic cancer to treatment, and if treatment is determined to be necessary, the Center conducts treatment as soon as possible.
For example, if the treatment is determined to be suitable based on tests conducted during the outpatient consultation on Monday, at the quickest, the patient would be admitted two days later on Wednesday, RFA would be conducted on Thursday, a post-procedure CT scan would be given on Friday, and if there are no issues, the patient would be discharged on Saturday. Depending on the patient, there are cases where RFA is conducted in the afternoon of the same day that the patient is admitted for hospitalization. As hospitalization schedules are determined according to the condition of each individual patient, there are cases where a patient may be discharged in as little as three days.
*Sample treatment schedule
| Monday | Tuesday | Wednesday | Thursday | Friday | Saturday | Sunday |
| --- | --- | --- | --- | --- | --- | --- |
| Outpatient consultation,tests such as ultrasounds | | Admitted for hospitalization | RFA | Post-procedure CT scan | Discharged from hospital | Home care and convalescence |
In addition, as the hospital not only has six 64 multislice CT scanners and four 3.0 tesla MRI machines, but also has the cooperation of Radiology, tests can be conducted with minimal wait times. In some cases, detailed testing is conducted on the same day as the initial consultation.
The reason why the department places importance on the speediness from testing/diagnosis to hospitalization and from treatment to discharge is that if there is an extended period of time until treatment, the cancer may progress during this time and grow. Conducting treatment as soon as possible has major advantages for both patients and for us as medical professionals.
Going forward, we will continue to practice "testing and treatment with no wait times", never deferring treatment.
No Limit–Never give up as long as there is the possibility of treatment
The Center has the policy of conducting "No Limit" treatment that is not held back by limits.
In the Clinical Practice Guidelines for Hepatocellular Carcinoma of the Japan Society of Hepatology, RFA is recommended for hepatic cancer with "tumor diameter of 3 cm or less and 3 tumors or less". For this reason, in most cases, RFA is not conducted on hepatic cancer with tumors in excess of this in terms of size and number.
The Center offers care in accordance with the standards indicated in the Guidelines, however, in cases where it is thought that conducting RFA would enhance the patient's survival rate even slightly, RFA is conducted even in cases that exceed the standards indicated in the Guidelines.
In addition, upon addressing the risks, the Center conducts RFA on dialysis patients and patients who have undergone a pacemaker transplant for whom the risks of RFA are said to be high.
No two people in the world are the same. Therefore, applying uniform treatment indications for all patients does not enable treatment suited to individual patients.
As long as patients wish to "live longer", we will never give up. In the spirit of "No Limit", we will pursue the optimal treatment for each and every patient.
(3) Our Strengths
RFA conducted on metastatic hepatic cancer
When cancer that occurred somewhere other than the liver metastasizes to the liver, it is referred to as metastatic hepatic cancer. The Center actively conducts RFA on metastatic hepatic cancer, and many patients travel a great distance to the Center.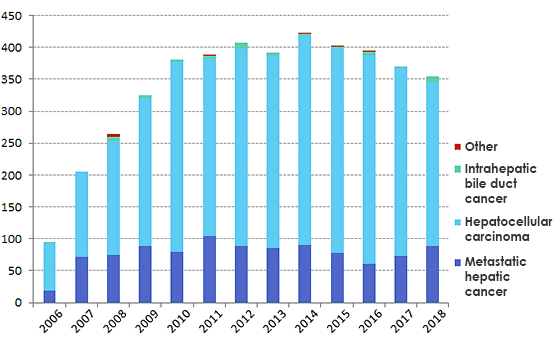 [Percutaneous radiofrequency ablation at the Department]
2006/4-2017/12
| | | |
| --- | --- | --- |
| Total number of patients: 4048 | Hepatocellular carcinoma | 3074 cases |
| | Intrahepatic bile duct cancer | 50 cases |
| | Metastatic hepatic cancer | 915 cases |
| | Other | 9 cases |
[Complications]
2006/4-2017/12
Early complications


(arose within 30 days of radiofrequency ablation)

125/4048 cases
3.1 %
Pleural hemorrhage
23 cases
Intra-abdominal hemorrhag
23 cases
Liver abscess
15 cases
Hepatic infarction
12 cases
Hemobilia
5 cases
Pneumothorax
4 cases
Pleural effusion
3 case
Gastrointestinal perforation
2 cases
Other
28 cases
*Death during the procedure
10 cases
*(With regards to death within 30 days of radiofrequency ablation = death during the procedure, includes one case of acute aortic dissection during the procedure, one case where the cause of death was thought to be hypercalcemia due to paraneoplastic symptoms, one case where the cause of death was hemothorax due to recurrent bleeding after radiofrequency ablation conducted for the purpose of hemostasis of hemothorax from left pleural metastasis, one case that died of respiratory failure after radiofrequency ablation was conducted on a pancreatic cancer liver metastasis but the pancreatic cancer later spread to the pericardium and lungs, one case that died due to the rupture of occipital lobe metastasis 14 days after conducting radiofrequency ablation on frontal bone metastasis of hepatocellular carcinoma, and one case that died at another hospital due to gastrointestinal hemorrhage after being discharged.
[Primary lesion for metastatic hepatic cancer]
2006/4-2017/12
| | |
| --- | --- |
| Large intestine carcinoma | 642 cases |
| Gastric cancer | 69 cases |
| Breast cance | 63 cases |
| Pancreatic cancer | 47 cases |
| Lung cancer | 16 cases |
| Renal cancer | 12 cases |
| Ovarian cance | 11 cases |
| Throat cancer | 7 cases |
| Duodenal cancer | 5 cases |
| Uterine cance | 5 cases |
| Esophageal cancer | 5 cases |
| Other | 33 case |
| Total | 915 cases |
[Number of new patients]
2015/1-2017/12
| | |
| --- | --- |
| Hepatocellular carcinom | 126 cases |
| Intrahepatic bile duct cancer | 2 cases |
| Metastatic hepatic cance | 33 case |
RFA using artificial pleural effusion and artificial ascites
By conducting RFA using artificial pleural effusion and artificial ascites, RFA can be conducted on tumors in locations where it is difficult to conduct RFA.
The artificial pleural effusion method involves artificially injecting water (5% glucose solution) into the thoracic cavity, and is used when the lungs block visualization of the tumor on ultrasound as the tumor is located just under the diaphragm. It is also used where there is the risk of procedural accidents such as a pneumothorax as the lungs are on the route taken to puncture the tumor, and even if the tumor is extracted, puncturing it would lead to a pneumothorax.
There are three main purposes of the artificial ascites method.
To separate the cancer from the digestive tract or other neighboring organs, preventing procedural accidents due to heat injury.
To separate the cancer on the surface of the liver from the peritoneum, improving visualization on ultrasound and alleviating the pain that accompanies ablation
To separate the lesion from the diaphragm, improving visualization on ultrasound and alleviating pain.
By using artificial pleural effusion and artificial ascites in this way, the department is working to ensure that even patients who were said to be unable to undergo RFA can undergo RFA.
Facilities and treatment environment dedicated to RFA
At the Center, RFA is conducted not in an operating room or outpatient treatment room, but in a treatment room dedicated to RFA. As there are no restrictions such as being unable to use an operating room due to the operating schedules of other clinical departments, the advantage is that the treatment date can be quickly determined.
The accuracy of RFA is significantly influenced according to the devices used. For this reason, the Center has created a system to ensure that the accuracy of treatment can be maintained by adopting ultrasonic diagnostic equipment and a radiofrequency ablation system.
Extensive number of RFA cases
The Center conducts RFA on 355 cases of hepatic cancer per year (number of treatments conducted from January 2018 to December 2018).
Going forward, by accumulating further experience, the Center intends to provide treatment to the many patients who need RFA.
---
Message to our patients
Patients who have been diagnosed with hepatic cancer at another hospital or clinic and wish to seek treatment at the hospital should first contact the Center via telephone or FAX. Patients are asked to communicate the contents of their diagnosis, and consultation will be provided on the treatment plan, such as whether RFA is indicated.
Early treatment intervention is crucial for hepatic cancer. In order to enable treatment as quickly as possible, please first contact us, and the referral (patient referral document) can be brought at a later date.
---
What is Pancreato-biliary team?
(1) Overview
The Gastroenterology, Biliary-Pancreatic Group provides care specializing in diseases of the pancreas and biliary tract (gallbladder and bile duct). Examples of the pancreatic diseases handled by the Group are malignant diseases such as pancreatic cancer and pancreatic neuroendocrine tumors (P-NET) and benign diseases such as acute/chronic pancreatitis. In terms of gallbladder diseases, there are malignant diseases such as bile duct cancer, gallbladder cancer, and cancer of the duodenal papilla, as well as benign diseases such as cholelithiasis and acute cholecystitis.
Pancreatic cancer and biliary carcinoma are difficult to diagnose and treat, and are known for having poor treatment outcomes out of all cancers. In order to overcome these cancers, we emphasize the enhancement of testing technologies and treatment technologies with the aim of increasing early detection and enhancing treatment outcomes.
(2) Policy
The greatest goal of the Group is the early detection and early treatment of pancreatic cancer. In order to overcome pancreatic cancer, known for having a poor survival rate, we conduct tests/diagnoses using CTs and endoscopic ultrasound (EUS), striving for treatment intervention at a stage where resection is possible.
(3) Characteristics
Detailed testing for the early detection of pancreatic cancer
There are cases where small pancreatic cancers cannot be seen with regular CTs alone. For this reason, the Group conducts tests that combine pancreatic dynamic CTs, MRCP (cholangiopancreatography using MRI) and endoscopic ultrasound (EUS) with the aim of detecting small pancreatic cancers that are in the operable stage.
[Explanation of tests]
Pancreatic dynamic CT: A test where a contrast agent is injection and abdominal cross-section images are taken several times. By taking CT images of the same area after a certain amount of time, differences in the movement of the contrast agent can be seen between normal tissue and diseased tissue.
MRCP: A test where the bile duct and pancreatic duct are examined using an MRI device. As it can be conducted without using an endoscope or contrast agent, it is a test that places minimal stress on the body.
EUS: A test where ultrasound is applied to organs such as the pancreas from close range by inserting an endoscope with an ultrasound device attached.
Prompt diagnosis using EUS-FNA
Endoscopic ultrasound-guided fine needle aspiration (EUS-FNA) is a testing method where diseased tissue is harvested using an endoscope with a small ultrasound emitting device attached to the tip.
If the possibility of pancreatic cancer or gastrointestinal submucosal tumor is suspected based on imaging tests, pathological diagnosis where the tissue harvested by EUS-FNA is examined enables a definitive diagnosis. As EUS-FNA is conducted by inserting an endoscope from the mouth, it is minimally invasive compared to diagnosis using a laparoscope, that was conducted in the past and required an incision in the abdomen. The period of hospitalization is two nights and three days, broken down as indicated in the chart.
*Sample hospitalization for testing (shortest duration)
1st weekday
2nd weekday
3rd weekday
Admitted for hospitalization
EUS-FNA
If there are no issues with the morning blood draw, begin eating from lunch and discharged after lunch.
Fast for one day
Treatment structure for urgent cholecystitis and cholangitis
Biliary tract infection such as cholecystitis and cholangitis is one of highly urgent diseases where immediate care and treatment after onset are important. The Group has prepared a structure enabling endoscopic retrograde cholangiopancreatography (ERCP) testing regardless of whether it is during or outside regular consultation hours, with physicians, nurses, and co-medical staff working together to ensure that we are able to respond to these kinds of urgent diseases. This enables patients requiring treatment to receive same day treatment and procedures upon coming to the hospital.
---
Message to our patients
Group staff actively take part in conferences, research, and exchanging information with other medical institutions individually working to enhance their skills in order to provide care that is prompt and of a higher quality than what is currently provided to as many patients as possible. In addition, the comprehensive medical checkups conducted at the hospital include a "pancreatic cancer/bile duct cancer course" to enable the early detection of pancreatic cancer and biliary carcinoma.
The Group operates on a referral system. On Mondays and Tuesdays, Group staff conduct initial outpatient consultations*, and patients with a referral (patient referral document) are asked to come on Mondays or Tuesdays to ensure a smooth appointment.
*Schedule as of January 2019.