For the First-Time Visitors
Request for a referral letter

We ask those who visit us as outpatients to bring a referral letter (patient's referral document) issued by primary care doctors or neighboring hospitals or clinics. Alternatively if you are English speaking and wish to make an appointment with one of our bilingual English speaking primary care physicians please call our Department of International Healthcare on

+81-3-6721-6239

.
For the First-Time Visitors
---
Consultation Hours
Reception Hours
8:30a.m.-11:00a.m
1:00p.m.-3:00p.m.
Please confirm the outpatient consultation schedule in advance (Outpatient Consultation Schedule), as some clinical departments may be closed for examinations or operations.
Closed
Every Saturday, Sunday, National Holidays, Substitute Holidays, and the year-end and New Year holidays
---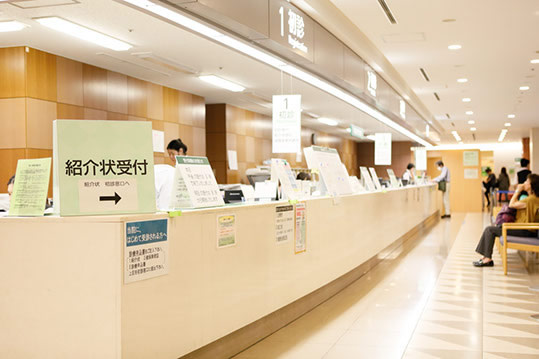 For those who are visiting our hospital for the first time, we would ask to bring a referral letter issued by a primary care doctor, nearby hospital, or clinic, along with your national Japanese health insurance card.
You would still able to reserve an appointment even if you do not have a referral letter. However, in such a case, we will make a surcharge of \5,500 (tax included) for the first-time visitors, while \4,400 (tax included) for the re-visitor as a "special (specified) medical care coverage". For the definition of the first time visitor please see below.
As we have an on-site primary care services based at our hospital for international patients, you could speak to our primary care doctors in English to obtain a referral letter for our specialists in advance if necessary. If you would like to make a reservation with our primary care physicians or specialists, please call our international healthcare office on +81-3-6721-6239.
We would like to ask you to make an appointment with the specialist doctors you were referred to in advance. This would help to ease crowding in hospital and reduce your risk of COVID-19 infection.
Patients Meeting a Criteria for the First-Time Visitor
The definition of the First time visitor:
Visiting us for consultation/treatment for the first time.
Visiting a different specialist to the specialist where you are currently being treated.
Visiting the specialist doctor when your treatment was already discontinued by the same specialist (including discontinuation of the treatment for your own reasons).
More than 6 months has passed since your last visit to the hospital.
Consultation Hours
Mon
Tue
Wed
Thu
Fri
Sat
Sun

8:30 a.m. ~ 11:00 a.m.
1:00 p.m. ~ 3:00 p.m.

Closed
*Consultations may be subject to a sudden change. Please confirm the outpatient consultation schedule in advance. Depending on the specialists, the requirements may vary. Please check the outpatient consultation schedule for more details.
Outpatient Consultation Flow

GUIDE FOR NON-JAPANESE PATIENTS
General Flow on the day of Your Visit
Please go to the number 1 "Registration" counter on the 1st floor. We will confirm your health insurance card and a referral letter.
Please fill in the Registration Form. Registration Form
We will provide you with an Outpatient Reception Sheet and show you the reception desk for the department that you have the consultation with.
Our Approach to Minimising the Waiting Time
We provide outpatient consultation to almost 2,000 patients every day.
As a result, we usually expect some wait; average waiting time is about 35 minutes, with 35% of patients waiting for longer than an hour. (December 2015 survey)
We therefore try to restrict the maximum number of outpatient attendance to 2 consultations per day for each patient in order to make your outpatient experience as smooth as possible.
This would allow us to focus more time on specialized treatments, operations, and inpatient treatments, as well as liaising with local primary care services. We will however ensure that we respond to any urgent cases or sudden worsening of condition if deemed appropriate.