Neurosurgery
---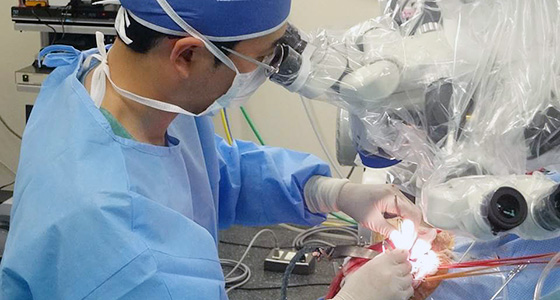 (1) Overview
We treat neurological disorders while coordinating with the Gamma Knife Center, Cerebrovascular Medicine, and Neurology. For example, we treat neurological emergency cases which require quick and accurate diagnosis such as stroke, epileptic seizure and brain tumor requiring advanced treatment methods.
We perform nearly 400*1 surgeries annually for cerebrovascular disease such as subarachnoid hemorrhage, cerebral aneurysm, cerebral arteriovenous malformation, cerebral hemorrhage, and benign brain tumors including acoustic tumors and meningioma, malignant tumors such as glioma, metastatic brain tumors, trigeminal neuralgia, facial spasm, spinal cord tumors and spinal cord arteriovenous malformations.
*1 Total number of neurosurgeries from January 2021 to December 2021 is 417.
(2) Policy
Providing Medical Care Emphasizing Our Patients-First and Improvement of Safety and Safety and Expertise
We always provide treatments as if the patient is our family. We strive achieve better outcomes in the long term. For example, surgeries are performed by experienced surgeons while using electrophysiological monitoring and navigation system to monitor cerebral function under anesthesia in order to improve safety and certainty of surgeries.
(3) Our Strengths
Striving for Highly Accurate and Safe Surgeries
In brain surgery, it is important to minimize any damageto the brain. We therefore, perform surgeries while confirming details under a microscope to approach to lesions without damaging the healthy brain as much as possible.
Our surgeons practice surgeries using microscopes to perform highly accurate surgeries. For example, we have daily training to be able to suture under microscopes using thread finer than human hair.
Implementation of collaboration of multiple clinical departments and professionals
For treatment of brain diseases, it is important to consider not only the diseases themselves, but also the social backgrounds such as the patient's general condition and social background, and consideration from various social aspects such as home environment. We, therefore, have a daily conference with other departments such as Neurology, Cerebrovascular Medicine, Rehabilitation, co-medical staff, and the General Counseling Room. We make efforts to provide medical treatments as one by sharing information regarding our patients.
Receiving Emergency Patients of Stroke
We operate a stroke hotline twenty four hours a day, seven days a week. We have a system to smoothly accept patients under which our doctors get directly contacted by neighboring medical institutions and rescue teams. We respond to emergency surgeries whom we accept under the stroke hotline pathway.
---
Message for Our Patients
In the area of neurosurgery, there are cases which will require craniotomy surgery under general anesthesia using a microscope such as brain tumors and unruptured cerebral aneurysms. We devote ourselves to our studies to perform highly accurate and safe surgeries while minimizing the damage to the brain. We have experienced doctors, and focus on accumulating clinical skills.
For example, the Director of Neurosurgery, Doctor Inoue, has performed 900 cases of open brain aneurysm clipping, 300 cases of open brain blood vessel bypass surgery, 500 cases of cervical internal carotid artery thrombosis endarterectomy, 300 cases of craniotomy brain tumor resection, and 600 cases of craniotomy for removal of hematoma.
We receive an increasing number of referrals for delicate surgeries for large brain aneurysm and brain tumors (including skull base brain tumor surgeries and acoustic neuroma surgeries), cerebral vascular anastomosis and cerebrovascular moyamoya disease.
Please do not hesitate to consult us.