Cerebrovascular Medicine
---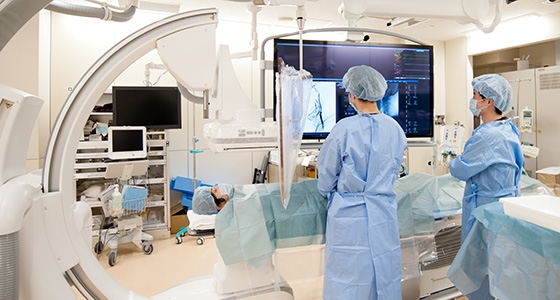 (1) Overview
In Cerebrovascular Medicine, we mainly diagnose stroke, conduct internal treatments and disease prevention. Especially, we focus on the t-PA (tissue plasminogen activator) intra venous injection therapy (IV treatment to dissolve blood clot) in hyper acute phase of ischemic stroke and intra cerebrovascular treatment (treatment to reopen the blockage of vessel with catheter).
We work in close contact with the neurosurgical and the rehabilitation divisions so as to reduce the after effects of stroke.
(2) Policy
Striving to Treat as Early as Possible
The treatment of ischemic stroke is a fight against time. It is better to start the treatment to reopen the cerebral vessel (t-PA intravenous infection therapy, intra cerebrovascular treatment) as soon as possible so that improve prognosis. We are working on building collaboration system with ambulance team and upgrading the medical care system so that we can start these treatments as soon as possible.
(3) Our Strengths
Treatment Regimen for Reducing After Effects of Ischemic Stroke
Ischemic stroke can be a cause of long-term care needed or bed-ridden.
Ischemic stroke is the most frequently occurring type of stroke, and the risks of developing disability are high because the brain tissues are irreversibly damaged. However, it has become possible to reduce the burden of disability by reopening the clogged cerebral vessel in its early phase.
For instance, in Japan, in 2005 t-PA intravenous treatment entered the treatment technique, followed by thrombus collecting catheter after 2010. These treatments can improve outcomes for those who suffered from severe ischemic stroke and might have been bed-ridden in the past.
It is better for a patient to get t-PA intravenous treatment and the cerebrovascular treatment as soon as possible. So, we always work as quickly as possible in order to start these treatments in the early phase.
Team Approach to Health Care
We are approaching the patients suffered from ischemic stroke as a team with other health care professionals such as cerebrovascular medicine, neurosurgery, neurology, rehabilitation, nurses, physical therapists, occupational therapists, speech therapists and social workers. All of us gather at the morning conference to exchange opinions and share information so that we can decide on the best approach for the patient.
Rehabilitation and Discharge Support
Our hospital aims to support patients in returning to society and homes after discharge, by beginning rehabilitation intervention in early cases from the day of hospital admission in early cases. In general, we aim to discharge patients to their own homes. However, depending on the degree of disability and the patient's background, we may refer them to a rehabilitation hospital where rehabilitation is provided more intensively.
We have established the Tokyo Jonan Stroke Network locally, and use the "regional collaboration treatment plan for stroke (critical path for stroke)" as a tool to share patient information to ensure smooth transfer of patients through the critical path. We discuss the treatment plan in a multidisciplinary manner and explain it to the patient and his/her family members before using the critical path. Below are some of the rehabilitation medical institutions we work with.
Name of the medical institutionZip codeAddressTelephone number
| | | | |
| --- | --- | --- | --- |
| Kamata Rehabilitation Hospital | 143-0015 | 4-14-5, Omorinishi, Ota-ku | 03-5767-7100 |
| Gotanda Rehabilitation Hospital | 141-0031 | 8-20, Nishigotanda, Shinagawa-ku | 03-3779-8820 |
| Shinagawa Rehabilitation Hospital | 141-0001 | 5-2-1, Kitashinagawa, Shinagawa-ku | 03-5793-3355 |
| Harajyuku Rehabilitation Hospital | 150-0001 | 6-26-1, Jingumae, Shibuya-ku | 03-3486-8333 |
Neurointervention
The conventional method for the carotid artery stenosis which causes ischemic stroke or cerebral aneurysm which causes subarachnoid hemorrhage had been surgical treatments (carotid endarterectomy, cerebral aneurysm clipping). However, these days, it has become possible to do minimally invasive neurointervention (carotid artery stenting, cerebral aneurysm coil embolic surgery) with well-demonstrated safety and effectiveness. We strive to discuss with the patients and their family, in order to provide the best treatment possible. In addition to that, we are doing intra /extra cranial artery angioplasty or head and neck embolization for a tumor.
STROKE HOTLINE
NTT Medical Center Tokyo runs Stroke Hotline which is available 24 hours 365 days for doctors. Doctors at our hospital receive contacts directly from nearby medical institutions and emergency rescue teams and build a system so that each patient will be accepted smoothly. Our division conducts treatments on the patients coming by this hotline system, too.
---
Message for Our Patients
It is important for to start stroke treatment as soon as possible. Therefore, when you feel something wrong with you suddenly, please come to the hospital as soon as possible. Even if the patient is not an emergency case, we examine the cause for the patients with symptoms suspected of having stroke and conduct treatments.
You can ask anything about neurosurgical symptoms or cerebrovascular related matters to our division.
Preventing a stroke is important, as long-term disability often occurs. We control and provide guidance on the risk factors, such as hypertension, dyslipidemia, diabetes, atrial fibrillation, smoking, obesity, and excessive drinking.