Gamma Knife Center
---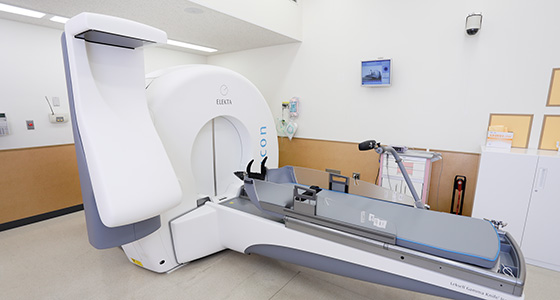 (1) Overview
Gamma Knife therapy is a type of radiation therapy where approximately 200 radiation (gamma ray) beams are concentrated on a lesion in the brain, accurately irradiating the lesion through computer control. As the lesion is irradiated with concentrated radiation beams, it is a therapeutic method that enables the lesion to receive extremely strong radiation beams while minimizing the radiation doses received by neighboring healthy tissue.
As the physical burden is significantly alleviated when compared with a craniotomy, it opens up the possibility of treatment for elderly patients for whom treatment was difficult in the past and patients with complications or underlying conditions, as well as the treatment of areas such as areas deep within the brain that were difficult to access with craniotomies.
The hospital actively undertakes Gamma Knife therapy, and has accumulated experience with the therapy. In May 2018, the hospital upgraded to a Gamma Knife model equipped with a mask system, enabling treatment that further minimizes the burden on patients.
Given its structure, Gamma Knife is used to treat lesions in the head. The efficacy of Gamma Knife therapy has been demonstrated with regards to the following diseases, however, depending on the size and spread of the lesion, there are cases where they may not be eligible for treatment. For more details, please inquire during your outpatient appointment.
Cerebral arteriovenous malformation
Acoustic neuroma
Metastatic brain tumor
Meningioma
Pituitary adenoma
Glioma
Trigeminal neuralgia
(2) Policy
Enabling Patients to Choose the Optimal Treatment Based on Thorough Understanding
The Center strives to ensure that patients are able to choose treatment based on thorough understanding.
With metastatic brain tumors, for example, there are many cases where local control of brain metastases is possible with Gamma Knife therapy, and many patients are able to live their regular lives for extended periods of time.
However, although Gamma Knife therapy does precisely and intensively irradiate lesions with radiation, there are cases where the negative effects of radiation arise. Particularly with benign tumors and cerebral arteriovenous malformations, as it is important to compare the therapy with other treatment methods such as surgery, the Center will thoroughly consult the patient prior to treatment.
If necessary, the Center will collaborate with other clinical departments such as Neurosurgery, combining Gamma Knife therapy with other treatment such as surgery to provide the best possible care for patients.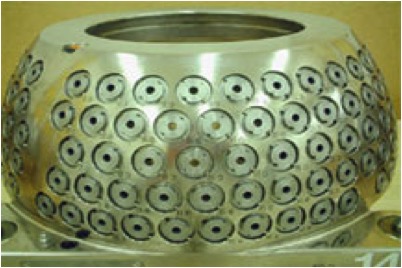 (3) Our Strengths
Extensive Experience With Gamma Knife Therapy
Since adopting Gamma Knife therapy in April 1997, the hospital has accumulated extensive experience with the therapy, with a total of more than 7,000 cases*.
*Actual performance from April 1997 to December 2021. The total number of Gamma Knife treatments conducted from January 2021 to December 2021 is 282.
Upgrade to a New Gamma Knife Model
In May 2018, the hospital upgraded to a Gamma Knife model equipped with a mask system. Conventional Gamma Knife therapy uses a metal frame to hold the patient's head in place for radiation, but with the new model, a special pillow and mask are used instead of the frame to hold the patient's head for radiation. This eliminates the need for local anesthesia due to the use of the frame, further minimizing the burden placed on patients with treatment.
In addition, with the Gamma Knife model equipped with a mask system, it is easy to break the radiation up over several days compared with conventional Gamma Knife models. For this reason, tumors of a certain size can be treated over several days.
Aiming for an Early Recovery and Return to Regular Routines With Gamma Knife Therapy
As no scalpel is used, there is no bleeding with Gamma Knife therapy, and in principle, the only anesthesia used is local anesthesia. There is also no need to shave the head. With Gamma Knife models equipped with a mask system, as setup only involves placing the mask over the patient's face, local anesthesia is also unnecessary.
Treatment can be completed with a hospital stay as short as two nights and three days, and as damage to the body is minimized, it enables an early recovery and return to regular routines for many patients. It can be considered as a treatment option for elderly patients with reduced physical strength and stamina and for patients with complications or underlying conditions.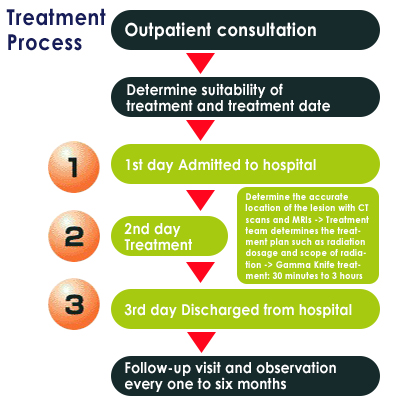 ---
Message for Our Patients
Patients who wish to have a consultation at the Gamma Knife Center should call the hospital Gamma Knife outpatient department (03-3448-6148), mention that they wish to have Gamma Knife therapy, and make an appointment for a Gamma Knife outpatient consultation*.
*Monday to Friday (excluding holidays, substitute holidays, and the New Year holiday (December 29 to January 3)), 8:30 a.m. to 11:00 a.m., 1:00 p.m. to 3:00 p.m.
During your Gamma Knife outpatient appointment, your physician will explain to you in detail the suitability of the treatment and the contents of your treatment. Please bring a referral from your primary care physician and MRI/CT films.
The Center is committed to enabling patients to choose the best possible treatment.
The Center does not conduct consultations or accept appointments for consultations via e-mail.