Surgery
---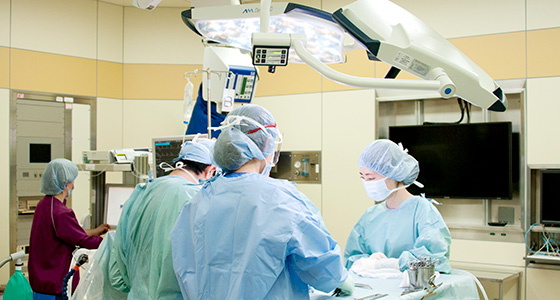 (1) Overview
Our department specializes in gastrointestinal diseases and breast diseases, and we perform about 1,300 surgeries annually*1. Specific target diseases include stomach cancer, colon cancer, rectal cancer, esophageal cancer, liver cancer, pancreatic cancer, biliary tract cancer, breast cancer, cholelithiasis, obstruction of the intestines, hernia, and anal diseases. We also handle acute abdomen (such as appendicitis, upper gastrointestinal perforation, lower gastrointestinal perforation, strangulation ileus, cholecystitis). We perform about 120 – 150 emergency surgeries annually*2.
*1 Surgeries performed from January 2017 to December 2017 is 1,315.
*2 Emergency surgeries performed from January 2017 to December 2017 is 128.
(2) Policy
Striving for state-of-the-art surgical practice
Medical technologies are steadily advancing. Under this environment, we strive to provide state-of-the-art and advanced surgical practice. We have many specialists including endoscopic surgical skill qualified surgeons. We also continue to improve our expertise in surgical specialties.
Efforts to build professional surgical systems
The current period marks the turning point from surgery focused on conventional abdominal techniques to the era of laparoscopic surgery. Under this flow, we attempt to expand application of the laparoscopic surgery as a center of endoscopic surgical skill qualified surgeons certified by the Japan Endoscopic Surgery Society. We also continue to strive to provide state-of-the-art surgical practice while having many surgeons certified by Japan Surgical Society, surgeons in Gastroenterology certified by Japan Society of Gastroenterological Surgery, specialists of coloproctology certified by the Japan Society of Coloproctology, specialists of esophageal surgery by the Japan Esophageal Society, and highly skilled guidance physicians certified by the Japanese Society of Hepato-Biliary-Pancreatic Surgery*3.
Responding to patients under 24-hour emergency medical care system
We proactively accept patients who need treatment at night and on holidays and have a system to perform emergency surgeries, if necessary, on a round-the-clock basis. Patients who are admitted on an emergency basis will be accommodated in ICU (Intensive Care Unit), HCU (High Care Unit), and general ward, subject to the patient's condition.
(3) Our Strengths
Deciding on surgical treatment plans
We consider surgical indications and surgical procedure for all cases at a conference held by all staff of our department twice a week. We also consider cases which need comparison with medical treatments such as endoscopic treatment at a joint conference with Gastrointestinal Endoscopy and Hepato-Biliary-Pancreatic Medicine held once a week. For advanced cancer cases which were previous deemed ineligible for surgery, if medical treatments or chemotherapy are effective, we will revisit the possibility of surgery.
Valuing team medicine
We provide medical treatment valuing team medicine. We cooperate not only with other departments, but also obtain support from various professionals including doctors, nurses, pharmacists, clinical engineers, radiological technologists, registered dietitians, physical therapists, social workers, and clerical staff.
Our NST (Nutrition Support Team) screens the nutritional status of patients and supervise nutritional management. We have a system for professional teams to perform cross-sectional checks, such as in-hospital rounds by the Palliative Care team, and the Infection Control team.
Under team medicine, sharing information is particularly important. With regard to preoperative and postoperative management, we efficiently share the information using clinical pathways (inpatient care plans).
Surgical site infection (SSI) surveillance and perioperative infection control
In order to provide surgical practice which is safe, high quality, and reasonable cost, it is important to have a system for the perioperative infection control.
Since 1998, we have been checking SSI surveillance (infection control to continuously check surgical site infection and confirm a rate of incident) as an effort to reduce surgical site infection.
We act as a secretariat of SSI surveillance for the Japan Environmental Infection Society, and are involved in the management of hospital acquired infection surveillance, and the management of the surveillance department. Through these activities, we endeavor to disseminate SSI surveillance in Japan and improve the quality of medical care.
---
Message to our Patients
It is important to have a regular check-up to find diseases at an early stage. When any abnormality is found at the check-up, detailed examination or treatment will be provided upon doctor's consultation. Please note that our outpatient service is by referral only. Please visit us with a referral letter.