Spine Center
---
Overview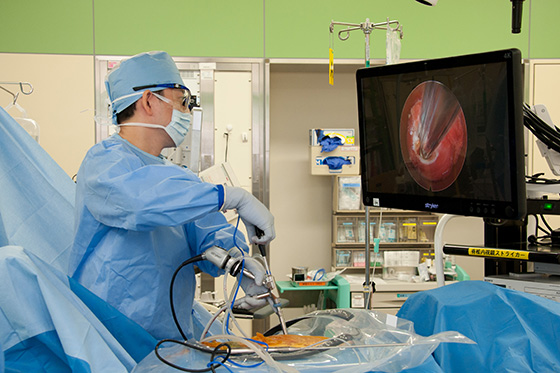 In the hospital's Orthopedic Surgery department, specialized treatment of spinal diseases is conducted in the Spine Center.
The Center conducts approximately 280 cases of surgical treatment of spinal diseases per year. (*1)
The Center has conducted approximately 1400 surgical treatments in 5 years. (*2)
There are cases where surgical treatment is required to treat the strong pain and paralysis from spinal diseases. The Center conducts specialized diagnosis and treatment based on extensive treatment experience.
This hospital also performs endoscopic spinal surgery for patients who wish to receive it.
The advantages of endoscopic spinal surgery include that it is minimally invasive and allows for careful observation of the nerves, thereby reducing the risk of bleeding and infection, improving neurological symptoms, as well as facilitating early discharge and early social rehabilitation.
The target diseases and surgical procedures are as follows.
[Cervical Spine Diseases]
Endoscopic laminoplasty for cervical spondylotic myelopathy
Endoscopic foraminotomy (endoscopic laminectomy) for cervical radiculopathy (cervical disc herniation, cervical spondylotic radiculopathy)
[Lumbar Diseases]
Endoscopic nucleotomy for lumbar disc herniation
Endoscopic laminoplasty and endoscopic laminectomy for lumbar spinal canal stenosis
Endoscopic posterior interbody fusion for lumbar spondylolisthesis
The Center places the utmost priority on physicians, nurses, and physical therapists working together to ensure safe and definite surgical treatment for patients.
Specialized treatment is available at the Pain Clinic to address pain from spinal diseases.
*1 Average number of surgeries from January 2016 to December 2020
*2 Number of surgeries from January 2016 to December 2020