Radiology
---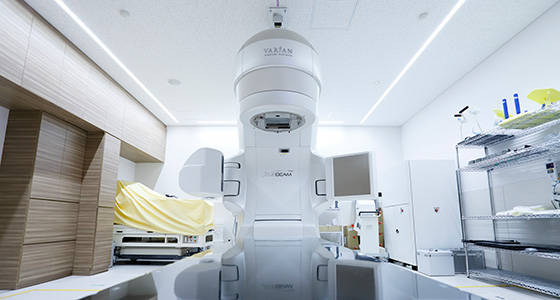 (1) Overview
We provide radiation therapy for localized cancer such as lung cancer, prostate cancer, breast cancer, laryngeal cancer, pharyngeal cancer, uterine cancer, and esophageal cancer.
We keep in mind to provide intensive and accurate radiation therapy using radiation therapy equipment called as linac (linear accelerator). Specifically, we provide treatments called as intensity modulated radiation therapy (IMRT), image-guided radiotherapy (IGRT), stereotactic radiation therapy (pinpointed irradiation).
We closely collaborate with other medical professionals and provide treatments to these diseases as a team medicine. We have radiologists certified by the Japan Radiologist Society/Japan Society for Radiation Oncology, radiological technologist including radiation therapy expert, radiologists certified by the Japan Professional Accreditation Board for Radiotherapy Technologist and Certified Nurse Specialists for cancer radiation therapy, upon using strength of which, we aim for providing better medical services.
We provide multidisciplinary treatments combining various treatments such as chemotherapy, and surgical treatments while coordinating with relevant departments.
(2) Policy
We make every effort to provide highly precision and accurate radiation treatments based upon the latest medical evidences.
We develop a treatment plan suitable for each and every patient using a dedicated computer, "High-precision three-dimensional radiation treatment planning system" to focus on cancer with high precision and provide treatment avoiding sound organs.
(3) Our Strengths
Intensity-Modulated Radiation Treatments (IMRT)
We provide intensity-modulated radiation treatments (IMRT) which enable to irradiate the radiation to focuses from multiple directions. Primary target sites of IMRT are prostate grand, head and neck, brain, esophagus, gynecological organs such as uterus, lung and others. Specifically, we use a procedure called as rotation intensity modulated radiation treatments (VMAT), performing while rotating IMRT.
Through the implementation of IMRT, it will be possible for aiming for enhancement of therapeutic effect, while suppressing side effects.
Introducing Technologies to Reduce Treatment Time
We provide stereotactic radiation treatments which irradiate radiation pinpointing to focuses of lung from multiple directions. As these are treatments primarily using VMAT, irradiation will be finished in few minutes. Depending on cases, we will use high-dose-rate, which enables to finish the treatment in very short period of time.
Providing Radiation Treatments for Pain Relief and at Post Surgeries
We provide radiation treatments for post-operative irradiation after breast-conserving surgeries, and pain relief.
---
Message for Our Patients
We cooperate Japanese Radiation Oncology Database (JROD).