Neuropsychiatry / Psychiatry
Neuropsychiatry / Psychiatry
---
(1) Overview
We provide treatments for mood disorders, schizophrenia, dementia, anxiety, counseling, and support for social rehabilitation. We have doctors, nurses, and clerks who support treatments, occupational therapists, licensed psychologists, ward pharmacists, all of who work together as a team. We focus on both of outpatient treatments and hospital treatments at wards. We consider it important that we will provide detailed explanation to solve concern and question of our patients and families. We have many programs for social rehabilitation and regaining smooth lives at homes. Please note that we do not provide infants younger than 10 years old or pediatric patients.
(2) Policy
Medical treatments of Neuropsychiatry have side effects, and resulting and conceivable effects are limited. We, therefore, fully explain merit and demerit, and concerns of treatments to our patients and their families, and provide treatments upon getting consent.
(3) Our Strengths
Various programs for social rehabilitation and support for life
We have following support programs depending on circumstances, worries, and condition of patients.
NTT Medical Center Tokyo Happy Program: A program applicable to elderly patients who have mild memory loss and their families. This is to aim for progress prevention of memory loss by exercise and reminiscence therapy.
Returning to work support program: A program applicable to people who are currently absent from work, or on sick leave. This is to aim for acquiring interpersonal relations through cognitive-behavioral therapy. We also have an approach to prevent a recurrence.
Cognitive-behavioral therapy for women: We have a program through which our patients will learn skills for behaviors and recognitions based upon cognitive-behavioral therapy, while taking up domestic concerns that female patients often have. The benefit is to enable for the patients to be released from sense of isolation, and become easy to find out clues of problem solving.
Providing electroconvulsive therapy to patients with depression
Of patients with depression, there are patients to whom medication is less likely effective, or medication cannot be given due to side-effect. We, therefore, recommend electroconvulsive therapy in which providing electrical stimulation to the patients with depression who have concerns on medication treatments. Prior to the electroconvulsive therapy, we will provide sufficient explanation and will perform it based upon consent from the patients.
Comfortable hospital environment in which there are many private rooms and rooms with soundproof.
The characteristic of our ward, in which we provide hospital treatments, is that there are many private rooms (with extra charges) as a psychiatric ward. You will spend in quiet surrounding as walls and ceilings are constructed with soundproof. We have an exercise room and an occupational therapy room, in which our patients can use as a part of the treatments. Please note that our ward is an open ward. It is important to observe rules for sleepovers and goods to bring in.
If you are considering hospitalization, please prepare a referral letter from your doctor and call the Neuropsychiatry outpatient.
Please see below for the process of accepting patients for hospitalization.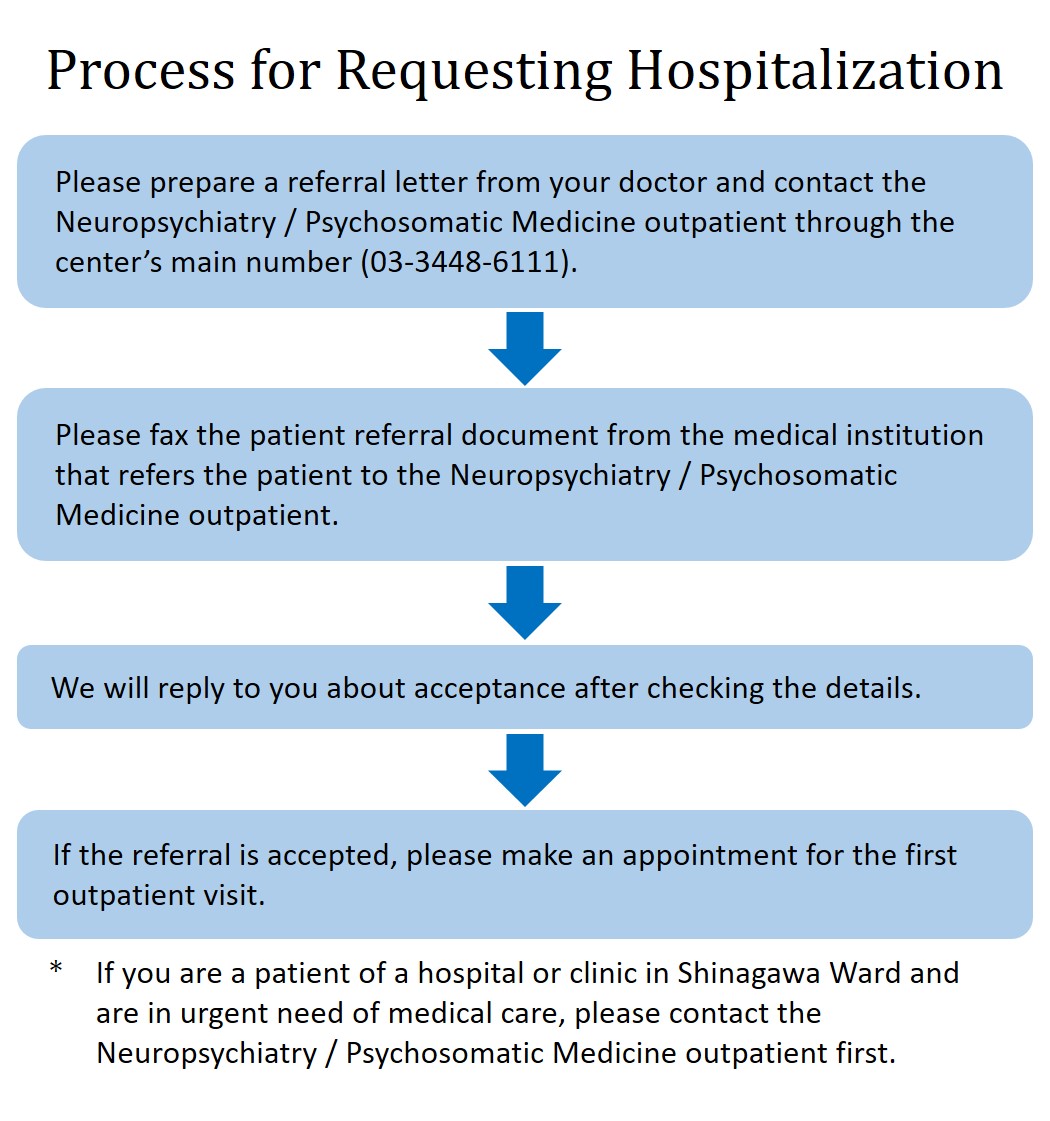 ---
Message for Our Patients
It is our policy to obtain consent from patients with sufficient understanding/ concurrence upon providing detailed explanation. We would like to ask your kind understanding to refrain from doing any action that will disturb our treatments to other patients. Your understanding and cooperation will be highly appreciated in order for us to be of use for as many patients as possible.