Hematology
---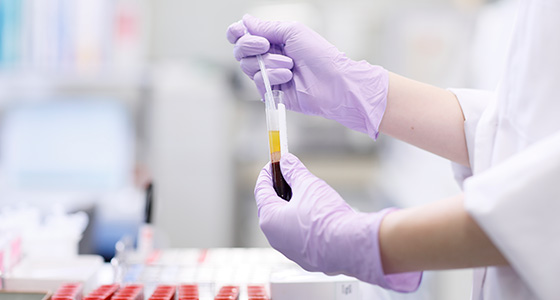 (1) Overview
Our department offers combined modality treatments for various blood diseases such as hematopoietic malignancies, including acute leukemia, chronic leukemia, malignant lymphoma and multiple myeloma, myeloproliferative neoplasms which include polycythemia vera, essential thrombocythemia, myelofibrosis, and various blood diseases which include bone marrow failure syndromes (aplastic anemia, paroxysmal nocturnal hemoglobinuria, myelodysplastic syndromes), idiopathic thrombocytopenic purpura, and autoimmune hemolytic anemia.
We actively work on the treatment of designated intractable diseases defined by the Japanese government, and focus on clinical trials of blood diseases for which no treatment has been established.
(2) Policy
Providing Treatments Focusing on the Patient's Quality of Life
The basic policy of our department is to discuss the condition with the patient , and have them select the satisfactory treatment based on sufficient explanation. We provide the treatments emphasizing the patient's Quality of Life while developing systems to identify optimal treatments for each patient
(3) Our Strengths
Treatment Outcome of Intractable Diseases Designated by the Japanese National and Local Governments
Our department has provided numerous treatments of intractable diseases designated by the Japanese national and local governments such as aplastic anemia, idiopathic thrombocytopenic purpura, autoimmune hemolytic anemia, paroxysmal nocturnal hemoglobinuria, acquired pure red cell aplasia, primary myelofibrosis, systemic amyloidosis, and idiopathic multicentric Castleman's disease. We, therefore, have accumulated experience with designated intractable diseases. For example, we actively provide immunosuppressive therapy by anti-thymocyte globulin for patients with aplastic anemia.
Conducting Clinical Trials of Blood Diseases Which Are Difficult to Treat
Our department conducts clinical trials of new medications for blood diseases which are difficult to treat. We provide treatments of hard-to-treat blood diseases under current standard treatments using pre-release new medications as clinical trials. Medical needs for diseases for which no treatment has yet established are called Unmet Medical Needs. Our department actively responds to such Unmet Medical Needs through clinical trials of new medications.
Cancer Genomic Medicine – Treatment With Clinical Sequences
Clinical sequence is the exhaustive examination of genes for the purposes of practical treatment and diagnosis. Cancer genomic medicine is an approach to provide treatment tailored to each patient based on the information obtained by clinical sequence. In our department, we have already started treatments which adopted clinical sequences, and created the environment to provide treatment individualized for each patient.
Cell Transplantation in Clean Rooms That Meet Stringent Criteria
Our hospital has two clean rooms which meet the class 100 of NASA standard and 9 clean rooms (private rooms) which follow class 10,000. We are actively gaining experiences of sterile treatments and proactively perform autologous peripheral stem cell transplantations, allogeneic peripheral stem cell transplantations between biological relatives, HLA half match transplantations and mini-transplantations.
---
Message for Our Patients
Our department has built systems under which patients can receive treatments based on consent. We have accumulated treatment experience and know-how for various blood diseases including designated intractable diseases. We actively conduct clinical trials and clinical sequences of new medications, and established systems under which each patient will receive optimal treatments. Please do not hesitate to consult with us.