Endocrinology & Diabetes
---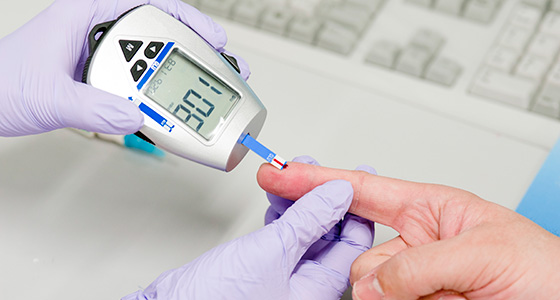 (1) Overview
Endocrinology & Diabetes is a department specializing in diabetes, and endocrine diseases (thyroid diseases and hormone diseases). We have medical specialists certified by the Japan Diabetes Society and the Japan Endocrine Society respectively. We also have nurses who are qualified as "Certified Diabetes Educator of Japan". We work together as a team to provide highly specialized treatment.
(2) Policy
It is important for us to know the history of the condition and the progress of each patient to provide appropriate diabetes treatment. We therefore consider sharing information with local clinics where our patients received care to be important.
(3) Our Strengths
Introducing Insulin Therapy for Outpatient and Guidance
In addition to provide treatment for outpatient at the outpatient department specializing in diabetes and for inpatients, we provide guidance with regard to self-injection of insulin for Type II diabetes patients who have difficulties in hospitalization. The service targets patients who require self-injection of insulin and have difficulties in controlling the blood sugar by oral medication, and who are judged by their treating doctors that insulin treatment can be safely introduced at the outpatient department. The instruction of self- injection of insulin for the outpatients will be given by the nurses who passed the examination of the Certification of Board for Diabetes Educators in Japan. We believe that providing insulin treatment without hospitalization will reduce burden for our patients by avoiding unnecessary admissions.
Average Length of Hospitalization Is 6.5 Days
For diabetes patients who are unable to decrease blood sugar by the outpatient treatment, we offer hospitalization. We try to provide treatment for diabetes patients to achieve return to normal life as early as possible. The average length of hospitalization for 2021 was 6.5 days.
Our Team Medical Structure for Diabetes Treatment
The medical staff members who provide diabetes treatment include diabetes specialists certified by Japan Diabetes Society, supervisors providing the training, nurses who are Certified Diabetes Educator of Japan and certified by Certification of Board for Diabetes Educators in Japan, registered dietitians, and clinical technologists.
We are focusing on the enhancement of facilities for diabetes treatment as well as the human resources. Since 1994, our hospital has been an education facility accredited by the Japan Diabetes Association.
As for endocrine disease, Hayashi, our department manager, is certified as an endocrinology and metabolism department instructor doctor of the Japanese Endocrinology Society. Our hospital is certified as a Japan Endocrine Society accredited education facility.