Dentistry & Oral Surgery
---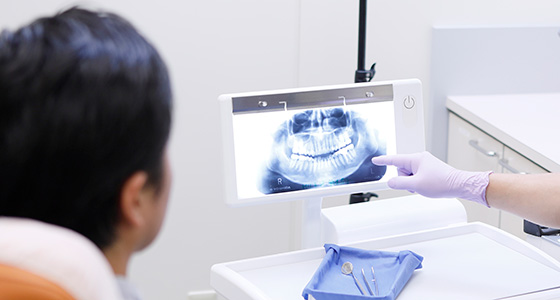 (1) Overview
NTT Dentistry & Oral Surgery provides medical treatment of tumors and cysts formed on the oral mucous membrane and a jaw, odontogenic infection which is caused by teeth, and traumas. We also provide the dental extraction of the wisdom teeth (the impacted teeth), which is difficult to perform at a general dental clinic. In particular, we focus on the treatment of tumors, such as oral cancers, and benign tumors, refractory osteomyelitis, and submandibular gland sialolithiasis disease and dedicate ourselves to improve the treatment result. In the treatment of the oral cancer, we set a goal for the patient's getting back to the normal life through the complete cure of the cancer and the functional improvement not only by the resections, but also with a combination of a reconstructive surgery, radiation therapy, and a medication therapy.
*We provided medical treatments of 95 cases of the oral cancers in total from January 1, 2017 through December 31, 2020.
(2) Policy
An oral cavity, which is from a mouth to a throat, plays important functions such as biting, swallowing, and speaking, which are inevitable for a social life. In this respect, our policy is to make a decision of the treatment, taking into the consideration of the quality of life of our patients (QOL) as the top priority.
(3) Our Strengths
Collaboration With Other Departments and Professionals
We provide the medical treatment upon collaborating with doctors and professionals of various departments. At the dental outpatient, we provide the medical treatment cooperating with dental hygienists, nurses, and dental technicians. For the treatment of the oral cancer, we have regular conferences with the Otorhinolaryngology・Head & Neck Surgery, Radiological Center, Oncology, Rehabilitation, and Surgery for collaboration.
Ways to Reduce the Pain of the Tooth Extraction and Anxiety
We try to reduce the pain and burden of the patients when removing a wisdom tooth which is buried in bones or gums and difficult to extract (the impacted teeth). For the patients whose tooth is deeply impacted and difficult to extract or have strong anxiety, we may use the intravenous sedation, and general anesthetics under the hospitalization control.
Treatment of Refractory Osteomyelitis (Anti-resorptive Agent-Related Osteonecrosis of the Jaw, Chronic Osteomyelitis With Diffuse Osteosclerosis)
We work on the prevention and treatment of recently increasing osteonecrosis of the jaw (osteomyelitis of jaw), which is induced by the bone resorption inhibitor (bisphosphonates, and denosumab). We also conduct the clinical research treatment of the refractory chronic osteomyelitis with diffuse osteosclerosis.
---
Message for Our Patients
Please note that we basically will not provide the general dental treatment such as cavities and dentures.
When you wish to consult our doctors, please bring a referral from your primary care dentist. When we finish the treatment, we will ask your primary care dentist to continuously provide