Pediatrics
---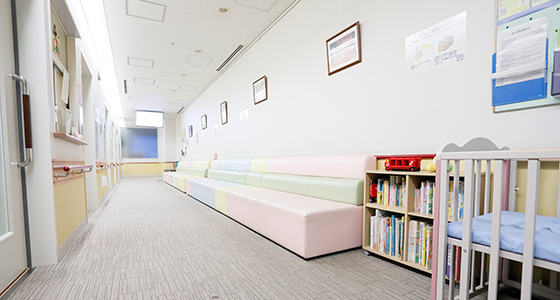 As a preventive measure against COVID-19, please make an appointment in advance toavoid overcrowding.
If you do not have an appointment, please contact us in advance, as you may not be able to see a doctor that day.
(1) Overview
We endeavor to treat a variety of conditions for children, including mental health issues, behavioural issues, infantile allergic diseases, school refusal, developmental disability and congenital heart disease.
Our pediatricians are proactively involved in neonatal care immediately after childbirth, in consultation with the Obstetric department. We aim for "seamless health management" from childbirth through this collaboration.
(2) Policy
In modern Japan, declining birth rates are becoming a serious issue. One of the causes of this includes a social structure under which it is difficult to give birth and raise children.
We think that it is the responsibility of pediatricians to face these social problems. We consider it important to provide support to child-raising of each family, and answer parent's concerns and questions.
(3) Our Strengths
Asthma Treatment Focusing On "Quality of Life"
The progress of treatment of pediatric asthma is remarkable. We keep in mind to provide standard treatments in accordance with the latest Bronchial Asthma Guidelines.
We strive to improve quality of life (QOL), so that patients with pediatric asthma will be able to continue daily school activities and exercise. We emphasize treatments to prevent asthma attacks, as well as the treatment for asthma attacks when they occur.
Embracing Children's Mental and Developmental Health Issues
We work with children and their families to face various problems that children have, which include not only physical illness but also other mental and developmental issues such as such as delay of language and motor development, school refusal, and psychosomatic illness.
Infant's Medical Examination/Health Management by Vaccinations
We provide vaccinations, such as measles and rubella. There are two types of vaccinations; regular vaccinations which are free of charge (at public expenses) during certain periods, and voluntary vaccinations which are at your own expenses or using subsidies. We provide both types of vaccinations.
Please do not hesitate to ask us on vaccination schedules and cost. Please note that you can use the public expenditure system of the 23 wards of Tokyo for infants' medical examinations.
---
Message for Our Patients
We strive to provide explanations easy to understand to our patients and families.
Also, we endeavor to provide adequate guidance based upon diagnosis. While we conduct examinations to make accurate diagnosis, we make continuous efforts to minimize physical examination, so as to not to put an excessive burden on children.
We also ensure not to administer unnecessary antibiotics, and avoid prescribing long-term medications unnecessarily.