Ophthalmology
---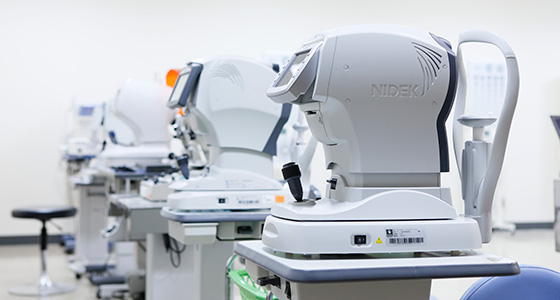 (1) Overview
We provide medical treatment for a wide range of eye diseases, from relatively minor diseases, such as conjunctivitis, chalazion, and dry eyes, to more serious diseases such as glaucoma, diabetic retinopathy, and retinal detachment. In particular, we have a special interest on the treatments of the diseases of the retina and vitreous body (diabetic retinopathy, and age-related macular degeneration).
We understand that the cataract surgery in those patients with systemic illness can be challenging. We perform a large number of cataract surgery every year and we closely collaborate with the doctors from other specialties in order to ensure our patient`s safety during the surgery and the postoperative period. Additionally, we work with other medical institutions by providing second opinions on the diagnosis and treatment for the eye diseases.
(2) Policy
It is our duty to provide a thorough explanation on the condition and the treatment plan to our patients before proceeding with any medical treatment. We, therefore, introduced a management system to keep record of our patient`s medical imaging. We often utilize these imaging to aid better understanding of the medical condition by our patients during the consultation.
(3) Our Strengths
Facility Optimization for a high Quality Cataract Surgery
As we provide a large volume of cataract surgeries, we utilize new ultrasonic cataract surgical device in order to improve the outcome for our patients.
The cataract surgery can be performed as a day surgery or an inpatient surgery depending on the condition of the patient.
Our Focus on Providing Medical Treatment for the Diseases of Retina and Vitreous Humour
We treat diseases of retina and vitreous humor diseases such as;
Diabetic retinopathy
Retinal detachment
Occlusion of retinal vein
Vitreous hemorrhage
Epiretinal membrane
Age-related macular degeneration
---
Messages for Our Patients
We suggest you to see an ophthalmologist regularly as the eye disease may not exhibit any noticeable symptoms particularly at an early stage of the disease.
Alternatively, if you experience symptoms of strain in your eyes, itching or any other symptoms/signs in your eyes, it may be the first sign of the eye disease and we would suggest seeing an ophthalmologist nearby.