Medical Oncology
---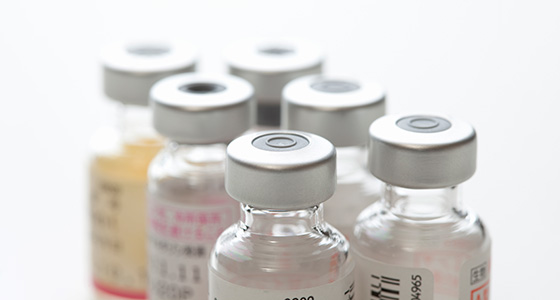 (1) Overview
Medical Oncology treats patients who have been diagnosed with malignant tumors and are mainly considering treatment with "anticancer drugs."
Specifically, our department treats patients with gastrointestinal cancers such as gastric cancer and colorectal cancer, and patients with urological cancers such as renal cancer, prostate cancer, urothelial cancer, and germ cell tumor, as well as cancers of unknown primary origin, malignant soft tissue tumors, and other solid cancers.
(2) Policy
High-Quality Cancer Treatment Realized Through Team Medical Care
As many of the people in Japan are now directly or indirectly affected by cancer, our hospital is making further efforts to treat cancer patients.
Our department aims to provide each patient appropriate medical care as the Medical Oncology department in a general hospital by making full use of our knowledge and skills regarding "anticancer drugs (cancer medication)" in individual "cancer care," while collaborating and cooperating with various departments and professions. We also aim to provide our patients with a "high quality of survival." We provide supportive therapy and palliative treatment tailored to each patient at the Medical Oncology Center (Cancer Medication Center) by combining the expertise of our allied healthcare professionals. We strive to provide patients the "best treatment" by focusing on maintaining and improving their quality of lives, rather than by just aiming to provide anticancer drug therapy.
(3) Our Strengths
Proposing the Optimal Treatment Plan for Each Patient
Recently, numerous new drugs have been developed for the systemic treatment of cancer, particularly in the area of anticancer drugs, making the management of treatment options and side effects more diverse and complex. In addition, in our hospital, which is a general hospital, we have many patients who have not only cancer but also other comorbidities. Treatment plans that consider individual values and lifestyles when setting treatment goals have become increasingly important.
In principle, our department proposes the latest standard of care, while making an effort to propose appropriate treatment plans more tailored to the needs of individual patients. In addition, by working in tandem with the respective clinical departments and bringing together their expertise, we provide optimal anticancer drug therapy to ensure that patients are not "life based on treatment" but "treatment for daily life."
Multidisciplinary Supportive Care and Early Palliative Care
In order to maintain and continue treatment, so-called supportive care that supports treatment with anticancer drugs is critical. Supportive care refers to measures to address side effects, medication guidance, practical guidance on self-care, and nutritional management. We provide supportive therapy tailored to each patient at the Medical Oncology Center (Cancer Medication Center) by combining the expertise of our allied healthcare professionals.
In addition, palliative care for patient's symptoms means medical care that alleviates the various physical and mental symptoms of cancer, enhancing the quality of life (QOL) of patients and their families.
Our department believes that palliative care as needed from the time of cancer diagnosis should always be provided as a part of "cancer care," providing appropriate palliative care to patients from the early stages to support enhanced QOL, including support with decision making. If there is an increased need for more specialized palliative care as the cancer progresses, we conduct treatment in collaboration with Palliative Care and the Cancer Counseling Center.
Role as a Coordinator in Cancer Care
We provide cancer care that is patients centered by working together with various departments and professions, such as surgeons, radiologists, nurses, pharmacists, and certified social workers.
The reason why we use the term "care" instead of "treatment" is to express our intentions that we, as healthcare professionals, always stand by the cancer patients and support them as healthcare professionals so that they can live their lives better even when we are not providing treatment. For this reason, we play the role of a coordinator to help patients avoid getting confused during their cancer care.
Conduct Clinical Research
In our department, we conduct clinical research based on questions (clinical questions) that arise from our daily clinical practices. In the future, we will also actively participate in multicenter clinical research and clinical trials with the aim of creating standard treatments. We believe that these clinical research initiatives passed on through our daily treatments will ultimately be helpful for our patients.
Efforts to Provide Cancer Genomic Medicine
Our hospital is designated as a Cancer Genomic Medicine Collaboration Hospital. Our department plays a central role in cancer genomic medicine at NTT Medical Center Tokyo, aiming to provide patients with appropriate cancer genomic medicine. For eligible patients and how to apply, please see the "Cancer Genomic Medicine" section. In particular, we are invested in cancer genomic testing for patients with cancers of unknown primary origin or rare cancers.
Establishment of the Medical Oncology Center (Cancer Medication Center)
With the opening of the Medical Oncology outpatient, the Medical Oncology Center (Cancer Medication Center) was established on the second floor of the outpatient building. Together with the Medical Oncology outpatient, Cancer Genomic Medicine outpatient, and the neighboring Chemotherapy Center, we provide patients undergoing anticancer drug therapy with comprehensive and holistic treatment and care and high Quality of Survival by combining expertise across clinical departments and professionals.
---
For Those Who Visit Medical Oncology
Our department makes an effort to provide better treatment while considering the patient's views on their illness, life, and work situation. We seek to help patients "treatment for daily life" rather than "life based on treatment," ensuring a high "quality of survival." Therefore, it is of the utmost importance to provide care that ensures involvement with patients from the moment when anticancer drug therapy is deemed necessary. If you consider visiting us, it would be a good idea to discuss this with your doctor.