Neurology
---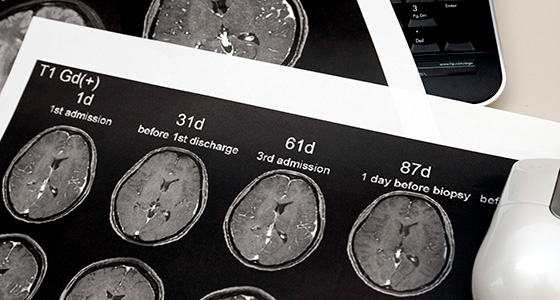 (1) Overview
Neurology is engaged in the treatment of a wide range of diseases that cause defects in the brain, spinal cord, peripheral nerves, and muscles. We diagnose and treat various diseases, ranging from those that are common in relatively elderly people, such as Alzheimer's dementia, Parkinson's disease, and stroke, to those that are also common in younger people, such as headache, epilepsy, encephalitis and meningitis, multiple sclerosis, myasthenia gravis, and peripheral neuropathy.
In particular, intractable neurological diseases are one of the most difficult diseases to diagnose and treat, and our department treats many patients with such diseases.
(2) Policy
Provide Necessary Medical Care in Cooperation With Other Departments
Neurology provides medical care in cooperation with Neurosurgery, Cerebrovascular Medicine, and Rehabilitation. For example, if we diagnose a patient as having acute stroke in our department, we immediately refer the patient to a team specializing in stroke treatment in our hospital and begin appropriate treatment. It is also not uncommon that patients who visit us for outpatient dementia examinations have neurosurgical diseases such as chronic subdural hematoma or brain tumor. In such cases, Neurosurgery at our hospital immediately takes over the treatment. As a result of these collaborative care systems, we receive patients with various neurological diseases who require specialized treatment.
(3) Our Strengths
We act as a point of contact for suspected neurological diseases
Because the causes of the diseases that Neurology treats vary widely, diagnosis is usually difficult. Our department has been receiving a lot of consultation from local practitioners when the cause of disease is uncertain. Our neurologists strive to identify the site of the abnormality and clarify the disease of patients through consultations and various tests. We would appreciate it if patients would consult their family doctors first and ask for a referral.
We Are Engaged in the Diagnosis and Treatment of Various Intractable Neurological Diseases
Our hospital has been designated as a Tokyo Metropolitan Intractable Diseases Cooperative Hospital, and we focus on the early diagnosis and specialized treatment of designated intractable diseases. Our department is also actively engaged in the diagnosis and treatment of intractable neurological diseases such as Parkinson's disease, amyotrophic lateral sclerosis (ALS), and spinocerebellar degeneration.
In some cases, the cooperation of many people, such as patients' families and caregivers, government officials, and doctors, nurses, social workers, and rehabilitation workers, is required for the treatment of these diseases. We provide medical care for each patient, while coordinating these procedures wherever necessary.
We Are Also Engaged in the Treatment of "Autoimmune Neurological Diseases," Which Are Difficult to Diagnose and Treat
Our department is also engaged in the diagnosis and treatment of autoimmune neurological diseases. Autoimmune neurological diseases are a general term for diseases caused by autoimmunity to the brain, spinal cord, and peripheral nerves. They include multiple sclerosis, Guillain-Barré syndrome, and chronic inflammatory demyelinating polyneuropathy (CIDP).
In recent years, new treatments for autoimmune neurological diseases have been developed one after another. In our department, we provide medical care that actively introduces these treatments.
---
For Those Who Visit Neurology
It may be difficult for patients to decide whether they should see a neurologist or not. In general, we suggest that patients discuss their symptoms with their family doctors if they are experiencing any of the following symptoms.
Headache
Dizziness
Numbness in the hands and feet
Difficulty putting pressure on the hands and feet
Difficulty in walking, with increased risk of tripping and falling
Slow movements and trembling of hands
Lightheadedness
Noticeable memory loss
Occasional loss of consciousness
Double vision
Difficulty in swallowing and choke easily
Please consult your family doctor first. If a visit to a neurologist is considered necessary, please bring a referral letter to our department. When you first visit our department, we will ask you to fill out a medical questionnaire about your symptoms. After examining you, we may advise you to visit the appropriate medical department based on your symptoms and findings.