Hypertension & Nephrology
Hypertension & Nephrology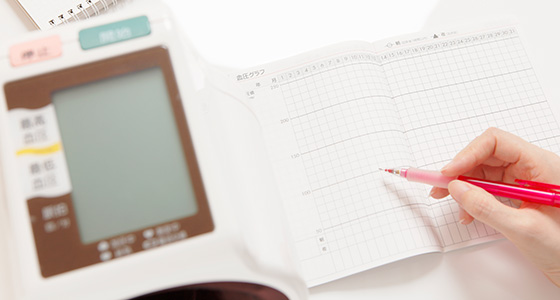 (1) Overview
Hypertension & Nephrology Department helps to diagnose and treat patients with renal diseases and high blood pressure. We treat acute kidney injury as well as chronic kidney diseases and body fluid/electrolyte imbalance. The diagnosis of kidney diseases may stem from primary kidney issues (acute/chronic glomerulonephritis syndrome, nephrotic syndrome) or from other systemic diseases that cause kidney function to deteriorate (diabetic nephropathy, collagen disorder, hypertension, etc.).
Some of our renal diseases may be diagnosed via imaging tests or kidney biopsies (obtaining samples of the kidney tissue). With patients who have more advanced chronic kidney disease (chronic kidney disease Grade 3b or above), we may offer outpatient/inpatient education program with the goal of slowing progression of the disease.
Our department offers dialysis treatments (renal replacement therapy). When chronic kidney disease (chronic kidney disease Grade 3b or above) progresses, our doctor may recommend dialysis treatments and will provide follow up consultations. Our doctor endeavors to provide consistent and patient-centered care at all times.
(2) Policy
How We Collaborate and Work With Our Primary Care Physicians
Some patients are understandably concerned that the diagnosis with Chronic Kidney Disease (CKD) would require facing risk of having to undergo dialysis, however this is often not the case.
CKD is a concept that was proposed based on reports that people with kidney disorders often develop cardiovascular disease such as heart attacks. Currently, it is estimated that one in eight adults in Japan have CKD (*1).
The department values close collaboration with neighboring hospitals/clinics in order to optimize the quality of care for our patients. Our department is responsible for liaising with the neighboring clinics and would help to determine whether CKD can simply be monitored through regular annual health check-ups, or if it requires regular hospital outpatient consultations. Our department also helps patients to determine the cause of the CKD and to understand the risk of developing cardiovascular disease and dialysis.
Education for Patients With Chronic Kidney Disease Grade 3B or Above
Figure 1 illustrates the progression (progression using the indicator called serum creatinine) of chronic kidney diseases in those patients who ended up in dialysis treatment from 1991 to 1994. (Patients suffered from diseases such as IgAN: IgA nephropathy, DM: diabetes mellitus, HT: hypertension, PCK: polycystic kidney).
Based on the graphs below, it is evident that all the CKD diseases have a period where the progression is slow, with suddenly worsening followed by a rapid progression.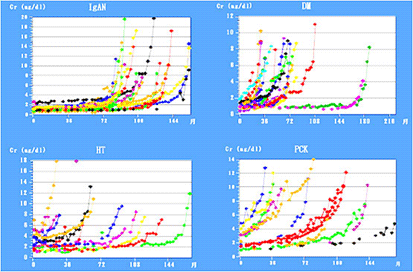 At our hospital, sudden worsening in kidney function (Cr levels) for each diseases occurred at 2.17 mg/dL for IgAN, 1.87 mg/dL for DM, 2.59 mg/dL for HT, and 3.09 mg/dL for PCK (Figure 2). By extending the period leading up to the period of sudden worsening is thought to be important factors in slowing down the progression of the chronic kidney diseases and may help to extend the period until the start of dialysis. For this reason, the department considers blood pressure management to be extremely important.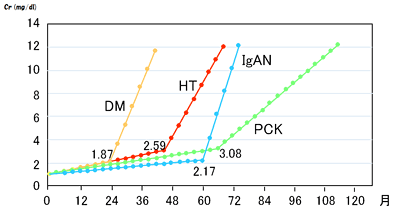 Hypertension Consultations
When making a diagnosis and offering treatment for high blood pressure, our department pays particular attention to the following three points.
(1) Determine whether the patient really has high blood pressure.
We often recommend blood pressure monitoring at home for more accuracy.
(2) Establish causes of hypertension, either primary hypertension (high blood pressure without any apparent causes) and secondary hypertension (hypertension that is caused by another disease).
(3) Prevent the onset of complications caused by high blood pressure (stroke, micro-bleeding at the back of eyes, heart enlargement, heart attack, excessive protein in urine, decreased kidney function etc.).
Dialysis Treatments
The department is responsible for the initiation of hemodialysis or peritoneal dialysis in patients with progressive chronic kidney failure and the continuation of dialysis for patients transferred from another hospital who was receiving dialysis there.
The department also conducts plasma exchange therapy for conditions such as Guillain-Barré Syndrome, inflammatory bowel disease, and sepsis. In addition, the department also conducts hemodialysis for acute renal failure.
(3) Our Strengths
The department specializes in a wide range of conditions from preventative medicine, cancer care, to emergency medicine.
Preventative Medicine
Self-management is important for hypertension. As a way of preventing/treating hypertension, the department recommends improving lifestyle habits and monitoring blood pressure at home (Figure 3).
Our Recommendation For Lifestyle Modifications
Weight control: BMI under 25
Salt reduction: Up to 6 g per day
Consumption of vegetables (excluding patients with renal failure)
Drinking alcohol in moderation: 1 serving of Japanese sake, 500 mL of beer or up to two glasses of wine for men. Half this amount for women.
Smoking cessation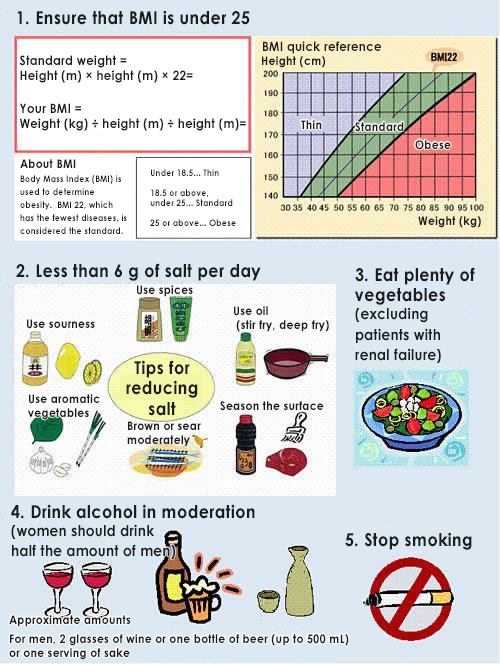 Home Blood Pressure Monitoring
Home blood pressure monitoring plays an integral role in diagnosing and managing hypertension. We recommend monitoring blood pressure twice a day at home, in the morning and before sleeping at night, using an upper arm blood pressure monitor. White coat hypertension, where blood pressure becomes high at the hospital but normal at home, and masked hypertension, where the blood pressure is normal at the hospital but becomes high at home, can be revealed in this manner.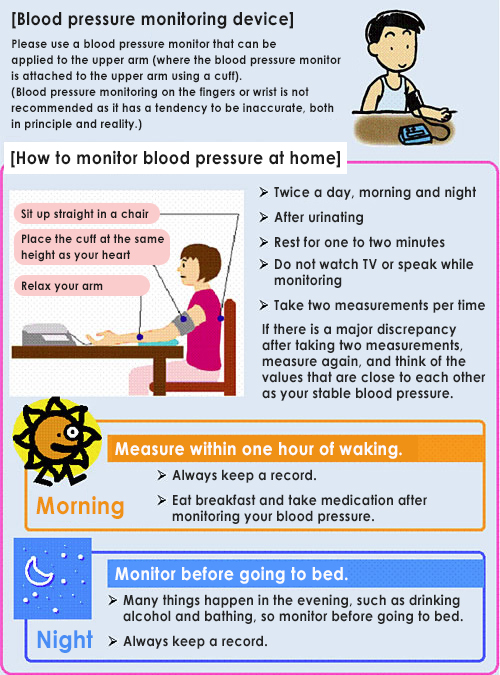 Cancer Care
In Japan, one in two people (*2) are expected to develop cancer in their lifetime, and one in eight people (*1) are diagnosed with chronic kidney disease. As a result, there are many patients with chronic kidney disease who receive treatment for cancer. In addition, as more cancer treatments become available, side effects affecting the kidneys has become increasingly common.
In 2011, the concept of Onco-Nephrology was developed to provide better care to cancer patients with kidney disease. Our department works with other department to provide optimal care to patients receiving cancer care who also have concomitant kidney disease.
Emergency Medicine
Patients with severe infections or in critical condition who are brought to the hospital for emergency hospitalization often need hemodialysis in the ICU due to damage to multiple organs, including the kidneys. Our department contributes to the hospital's emergency care by initiating dialysis.
Sources Cited
(*1) "Evidence-based Practice Guideline for the Treatment of CKD 2018" (Japanese Society of Nephrology)
p.26 Chapter 1 Diagnosis and Significance of CKD Preamble https://cdn.jsn.or.jp/data/CKD2018.pdf
(*2) "Latest Cancer Statistics" (National Cancer Center Japan)
3. Nationwide total for cancer incidence (new cancer diagnoses)
5) Probability of developing cancer — cumulative morbidity risk (based on 2014 data)
https://ganjoho.jp/reg_stat/statistics/stat/summary.html