Palliative Care
---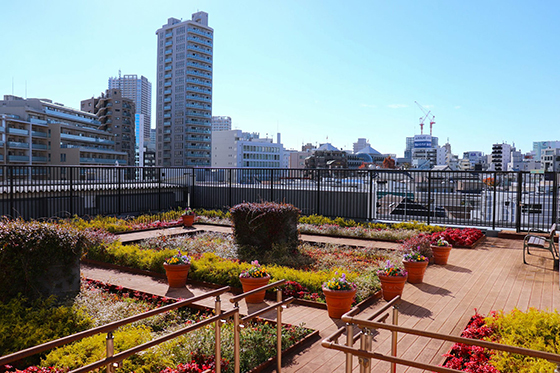 (1) Overview
The department specializes in treatment and care to alleviate the various kinds of suffering that arise with cancer (malignant tumors), enabling patients to live their lives as they wish.
The suffering caused by cancer is not limited to the pain of the disease, but spans a wide range, including nausea, lassitude, adverse reactions of medication, and emotional suffering. Alleviating this kind of suffering as much as possible is very important for maintaining the patient's quality of life.
In accordance with the policies of the main department treating the patient, the palliative care team provides care that enables cancer treatment to progress smoothly both for outpatients and in general hospital wards for patients undergoing cancer treatment such as anticancer drugs, radiation, and surgery. Specifically, the department provides measures to address the adverse reactions of anticancer drugs and radiation, and provides preoperative and postoperative pain management in the case of surgery.
In addition, with regards to the cancer pain said to be seen in 20% to 50% of patients at the time of cancer diagnosis, the department begins palliative treatment that can be conducted concurrently with cancer treatment at an early stage without waiting for the effects of the anticancer drugs, improving appetite and sleep, and providing care to ensure that the patient is able to thoroughly maintain their physical and mental stamina.
(2) Policy
Supporting the Patients' "Quality of Life" Through Team Medicine
Team medicine through interprofessional collaboration is essential in order to support the patients' quality of life. In Palliative Care, various professionals such as physicians, nurses, pharmacists, registered dietitians, physical therapy staff, dental hygienists, and clinical psychologists work together as a team to provide holistic care for patients.
(3) Our Strengths
Regular Relaxation
The department offers regular relaxation in order to allow cancer patients to relax and unwind. For example, the department offers music therapy, aromatherapy, and reflexology, and in some cases recommends these to the patient's family as family care.
This relaxation is available with the cooperation of numerous registered volunteer staff.
Establishment of a Palliative Care Ward
The hospital has a Palliative Care ward that specializes in treatment and care to alleviate the physical and mental suffering of cancer patients for whom recovery is thought to be difficult with current medicine.
In addition to adjusting medication and providing nursing care to alleviate pain and suffering, the Palliative Care ward makes use of the characteristics of the general hospital with a wide range of clinical departments to incorporate radiation therapy, nerve blocks, and physical therapy. By not only eliminating unpleasant symptoms such as pain and lassitude but alleviating psychological suffering and also providing support for outings and discharge from the hospital, the department strives to ensure that patients and their families are able to spend their time as peacefully and serenely as possible.
Emphasis on Nutritional Care and Management
At the department, nutritionists are actively involved with the palliative care team, conducting nutritional care and management. During cancer treatment, patients may lose their appetite due to nausea, leading to poor nutrition and loss of stamina and energy. In order to avoid this, appropriate nutritioanal care and management is important.
Further, the hospital's Palliative Care ward offers a once weekly optional menu that offers meals suited to the patient's requests and physical condition, and incorporate ceremonial meals using seasonal ingredients, placing importance on the "joy of eating".
---
Message for Our Patients
(4)For Those Who Would Like to Apply to the Palliative Care Ward
If you would like to apply to the Palliative Care Ward after checking the Palliative Care Wardon our website, please send us the prescribed documents so that we can check your application for registration. If you would like to apply, please contact the Palliative Care outpatient first according to the following process.
* As a preventive measure against COVID-19, we have suspended initial outpatient consultations since April 2021 and have shifted to document-based registration screening. We apologize for any inconvenience this may cause and thank you for your understanding.
1)Contact us before you apply (when sending documents)
Please be sure to read "For those who would like to apply to the Palliative Care Ward (PDF materials below)" and then contact us by yourself or through your family members prior to your application.
Pre-application Contact: Palliative Care outpatient

Tel:03-3448-6172
※Office hours: Mondays, Tuesdays, Thursdays, and Fridays; 10:00 a.m. to 4:00 p.m.
Pre-application Contact: Palliative Care outpatient
Tel: 03-3448-6172
* Office hours: Mondays, Tuesdays, Thursdays, and Fridays; 10:00 a.m. to 4:00 p.m.
PDF materials:For those who would like to apply to the Palliative Care Ward
2)Documents to be sent to us
(i) Consent Form for Application to the Palliative Care Ward
(To be filled out by the applicant or proxy)
(ii) Palliative Care Ward Admission Application Form A
(iii) Palliative Care Ward Admission Application Form B
*Palliative Care Ward Admission Application Form B
(iv) Referral letter (patient referral document) / Nursing summary (only for inpatients)
(v) MRI, CT and other data (CD-R and diagnostic report)
* Please be sure to attach the interpretation results
(vi) Blood sampling data (including infection)
* Those who show progress over a period of two to three months, including the present
(vii) Medication information (copy of prescription notebook, etc.)
* Those who show progress over a period of two to three months, including the present
(viii) Confirmation of documents to be sent
* For (iii) to (vi), please ask your current doctor.
* If we do not receive your documents even after one week has passed since you contacted us for your application, or if there are any missing documents or we need to confirm information, we may give you a call.
Mailing address
5-9-22, Higashigotanda, Shinagawa-ku, Tokyo, 141-8625
To Palliative Care Ward, NTT Medical Center Tokyo
* Please write Application for Palliative Care Ward on the front of the envelope.
* We recommend using a traceable mailing service such as registered mail or Letter Pack.
3)Process after sending documents
We hold a weekly review meeting, and if the requirements are met, you will be registered.
We will provide the results of our review to the key persons by phone and to the medical institution that referred you to us by mail.
After the review meeting, if the patient needs to be hospitalized immediately, we will contact the medical institution that referred the patient to us and coordinate the hospitalization. However, it may take some time before hospitalization depending on the availability of rooms.
It may take a long time to be admitted to the hospital, especially if you would like to be hospitalized in a charge-free room only.