NTT Medical Center Tokyo opened its Stroke Unit in 2005 to provide emergency treatment of cerebral strokes in the acute stage.
We maintain a system that ensures empty beds so that cerebral stroke patients that need emergency treatment can be received at any time.
Our Stroke Unit has three main features.

NTT Medical Center Tokyo opened a cerebrovascular medicine division in April, 2017. Our cerebrovascular medicine division links with our neurosurgery division to provide 24-hour emergency treatment, including emergency intravenous administration of tPA in the acute stage of cerebral infarction and cerebral embolism extirpation using a catheter for severe cerebral infarction.

We form teams that include nurses, therapists, and social workers in addition to doctors from the neurosurgery, cerebrovascular medicine, rehabilitation service, and radiation therapy divisions, to provide comprehensive support for patients that includes not only treatment but also rehabilitation and early reintegration into society.

It is important to start rehabilitation for a cerebral stroke in parallel with treatment, from the acute stage, which starts soon after pathogenesis, and thereby enable patients to quickly reintegrate back into society. NTT Medical Center Tokyo has resident doctors in the rehabilitation service division that are separate from the doctors in charge of cerebral infarction treatment. 23 physical therapists, 11 occupational therapists, and 6 speech therapists actively provide rehabilitation from the acute stage (numbers of therapists are current as of April 2019).

Our cerebrovascular medicine and neurosurgery divisions cooperate
to select the most suitable treatment method for the condition of each patient.
Surgical treatment

○Cerebral aneurysm clipping ○Cerebrovascular bypass surgery ○Carotid endarterectomy (CEA)
Medical treatment

○Thrombolytic therapy with intravenous administration of tPA ○Cerebral embolism extirpation using a catheter
○Carotid artery stenting (CAS)


Acute stage treatment of cardiac infarction includes stenting using a catheter, which is performed by the cardiology division, and vascular bypass surgery performed by the cardiovascular surgery division. Our cardiology and cardiovascular surgery divisions closely cooperate to select and provide the most suitable treatment method for the condition of each patient. We also focus on cardiac rehabilitation after acute stage treatment, and doctors and therapists at our rehabilitation service division work to provide patients with reintegration back into society early.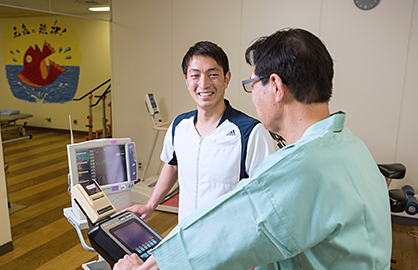 With cardiology, it is common for one doctor to be in charge of treating a patient, but at NTT Medical Center Tokyo, 10 doctors are divided into three teams to enable multiple doctors to be in charge of the same patient. This enables us to provide high quality treatment to all of our patients and minimizes the risk of a medical accident occurring. We also hold a conference every day to enable all of our doctors to know the detailed condition of all patients, including those that they are not in charge of. We also maintain a system that enables the appropriate action to be swiftly taken in the event that there is a sudden change in a patient's condition.Furthermore, we also provide safe and high-precision catheter treatment with a system of medical specialists comprised of 3 certified physicians and the medical advisor of the Japanese Association of Cardiovascular Intervention and Therapeutics.


NTT Medical Center Tokyo has adopted OCT (a new vascular imaging diagnosis system using near infrared radiation) to enable more detailed observation of blood vessels affected by disease than conventional IVUS (a vascular imaging diagnosis system using ultrasound). This enhances the quality of acute stage treatment for cardiac infarction, while also allowing the patient's condition to be checked with high precision after treatment.

Cardiac infarction is a serious disease that can lead to death if left untreated, but the rate of death can be dramatically decreased by starting treatment early at a medical institution. NTT Medical Center Tokyo has eight dedicated beds (CCU) for treating cardiac infarction and CCU network links with medical institutions in neighboring areas to provide smooth acceptance of patients that develop cardiac infarction and enable treatment to be started early.